Methane Reforming in Four-Stroke Engine Cycle
Engineering360 News Desk | March 19, 2017
Steam methane reforming (SMR) is currently the primary pathway for hydrogen production. However, industrial SMR does not scale down well for distributed, point-of-use applications such as fuel cell vehicle refueling stations due to high operating temperature and the need for use of sequential units for the.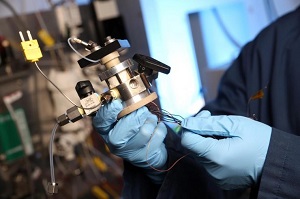 The CHAMP reactor uses the four-stroke engine cycle to create hydrogen while simultaneously capturing carbon dioxide emissions. Credit: Candler Hobbs, Georgia TechA modular reforming reactor is under development at Georgia Institute of Technology that could provide hydrogen at the point of use for residential fuel cells or neighborhood power plants, electricity and power production in natural-gas powered vehicles, fueling of municipal buses or other hydrogen-based vehicles. Researchers added a catalyst, a hydrogen separating membrane, and carbon dioxide sorbent to the four-stroke engine cycle to create the laboratory-scale hydrogen reforming system.
The CO2/H2 Active Membrane Piston (CHAMP) reactor operates at temperatures well below those of conventional steam reforming processes and consumes substantially less water. The reactor can also operate on other fuels such as methanol or bio-derived feedstock, and captures and concentrates carbon dioxide emissions.
Compared to standard engines that operate at thousands of revolutions per minute, CHAMP works at only a few cycles per minute, and at times even more slowly, depending on the required rate of hydrogen production and reactor scale. Spark plugs are absent as no fuel is combusted.
The system could be scaled up or down to produce the hundreds of kilograms of hydrogen per day required for a typical automotive refueling station, or a few kilograms for an individual vehicle or residential fuel cell. The volume and piston speed in the reactor can be adjusted to meet hydrogen demands while matching the requirements for the carbon dioxide sorbent regeneration and separation efficiency of the hydrogen membrane.
In practical use, multiple reactors would likely be operated together to produce a continuous stream of hydrogen at a desired production level.