The greening of automotive technology – evident in the advent of more efficient drivetrains, alternative fuels, and other advances – might now extend to the humble tire. Fossil fuel-derived isoprene for tire manufacture might soon be replaced with isoprene produced from trees, grasses, or corn.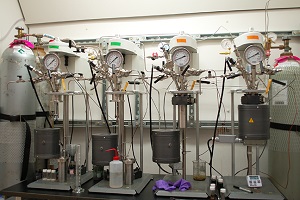 The process combines biological fermentation with conventional catalytic refining. Credit: University of MinnesotaTechnology developed and patented by the University of Minnesota Center for Sustainable Polymers combines biological fermentation using microbes with conventional catalytic refining that is similar to petroleum refining technology.
The first step entails microbial fermentation of sugars derived from biomass to an intermediate, called itaconic acid. Next, itaconic acid is reacted with hydrogen to form methyl-THF (tetrahydrofuran). This step was optimized when the researchers identified a unique metal-metal combination that served as a highly efficient catalyst.
The process technology breakthrough occurred during the third step to dehydrate methyl-THF to isoprene. Using a catalyst recently discovered at the University of Minnesota called P-SPP (Phosphorous Self-Pillared Pentasil), the team demonstrated a catalytic efficiency as high as 90% with most of the catalytic product being isoprene.
By combining all three steps into a process, isoprene can be renewably sourced from biomass.