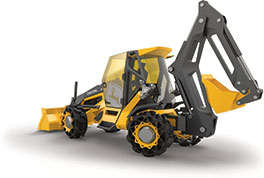 The John Deere Fixstern backhoe. Image credit: John DeereThe basic backhoe has been re-engineered by BMW Group subsidiary Designworks in collaboration with John Deere by application of BMW's "Fixstern" design process. The concept leverages emerging materials and technology innovations, such as a lightweight metal matrixed exoskeleton and a hybrid powertrain, to dramatically reconfigure the traditional backhoe machine form.
The R&D approach sought to arrive at a robust machine with reduced environmental impact and weight, enhanced equipment versatility, and lower manufacturing costs. Features include a suspended hybrid powertrain for lighter weight and greater efficiency, a lower center of gravity for greater stability and visibility, forward stabilizers, and an extended wheelbase with airless radial tires.
Integrated augmented interfaces are intended to enhance operation and real-time training, allow for increased communication between operator and project supervisor for efficiency and control, and incorporate predictive maintenance for decreased downtime and improved fleet management.