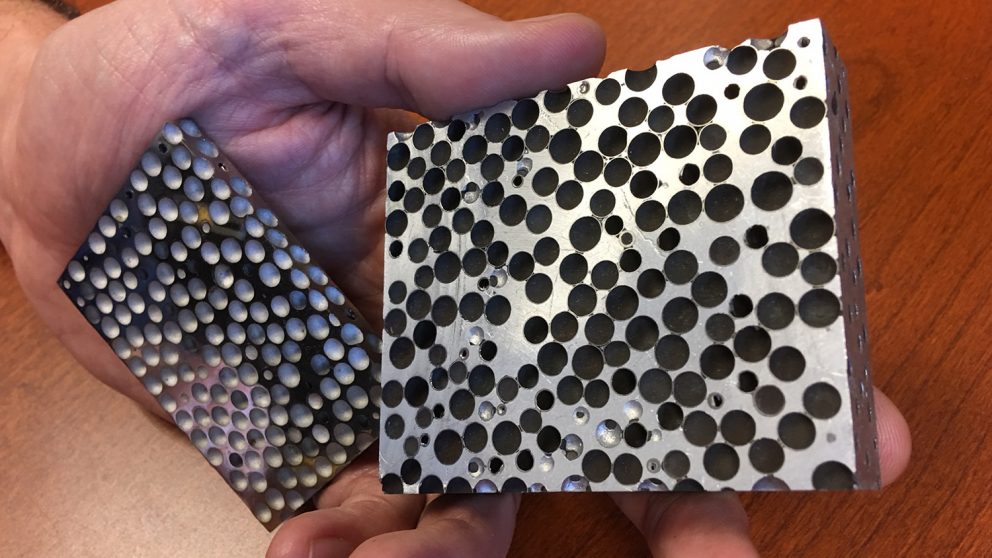 A sample of composite metal foam. Image credit: NCSUAn overview of extensive composite metal foam (CMF) research conducted at North Carolina State University over the last 12 years appears in the March 13 issue of Advanced Engineering Materials. The paper includes previously unpublished data and is intended to inspire other researchers to develop new applications for these materials and attract collaborators.
Previous research on lightweight CMFs has demonstrated uses as diverse as shielding X-rays, gamma rays, and neutron radiation, and reducing armor-piercing bullet penetration (see video). CMFs also provide superior insulation against high heat relative to the conventional base metals and alloys on which they're based. This property suggests the CMF is suitable for use in storing and transporting nuclear material and other hazardous materials.
The researchers are involved in three current projects, including a U.S. Department of Defense-funded effort to create vehicle armor that addresses threats from small arms, blasts, and fragmentation from explosives. CMFs are also being applied in a U.S. Department of Transportation-funded project to develop storage containers for transporting hazardous materials. Additionally, a NASA-funded project focuses on structural applications of the materials for airplanes.