Floatable Metal Matrix Demonstrated by Research Teams
Engineering360 News Desk | June 16, 2015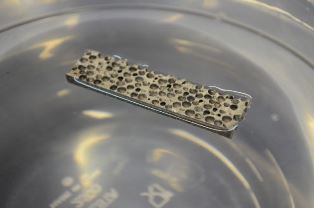 Researchers have demonstrated a metal matrix composite that can float on water. Image source: NYU Lab The material could improve automotive fuel economy because it combines light weight with heat resistance.
The metal matrix syntactic foam is the work of a team of researchers from Deep Springs Technology (DST) and the New York University (NYU) Polytechnic School of Engineering.
Their magnesium alloy matrix composite has a density lower than that of water and is strong enough to withstand conditions faced in the marine environment. It could be put into prototypes for testing within three years.
"This new development of very light metal matrix composites can swing the pendulum back in favor of metallic materials," says Nikhil Gupta, a NYU School of Engineering professor in the Department of Mechanical and Aerospace Engineering.
The syntactic foam captures the lightness of foams, but adds strength. The foam includes a matrix made of a magnesium alloy, which is then turned into foam by adding silicon carbide hollow spheres. A single sphere's shell can withstand pressure of more than 25,000 pounds per square inch before it ruptures.
The hollow particles also offer impact protection because each shell acts like an energy absorber during its fracture. The composite can be customized for density and other properties. This concept can also be used with other magnesium alloys that are non-flammable.
The composite has potential applications in boat flooring, automobile parts and buoyancy modules as well as in vehicle armor.