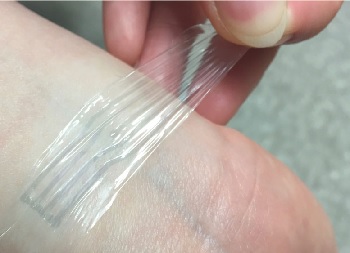 Stretchy electrode. Credit: Bao Lab/Stanford UniversityStanford researchers have chemically modified a brittle, electroconductive plastic to make it as bendable as a rubber band, while slightly enhancing its conductivity. The result is a soft, flexible electrode that is compatible with human nerves.
"This flexible electrode opens up many new, exciting possibilities down the road for brain interfaces and other implantable electronics," said Zhenan Bao, a professor of chemical engineering. "Here, we have a new material with uncompromised electrical performance and high stretchability."
Axons in brain cells carry electrical impulses between neurons, just as electrodes transmit signals within and between devices. Present-generation electrodes cannot stretch and flex as brain tissue does, making maintaining a good connection difficult.
Bao's team set out to maintain conductivity in plastic while increasing flexibility. Using specialized x-ray technology from SLAC, they discovered that the plastic they were studying consisted of two different, tightly-wound polymers. One was the electrical conductor. The other polymer was essential to the process of making the plastic. The resulting plastic was like a string of brittle, sphere-like structures.
The researchers hypothesized that by using the right molecular additive to separate these two tightly wound polymers, they could prevent increase stretch by reducing crystallization. After testing more than 20 additives, they hit on an additive that achieved significantly increased stretch without losing conductivity.
The team's success depended on the precise understanding of molecular structure afforded by the SLAC x-ray. "By understanding the interaction at the molecular level, we can develop electronics that are soft and stretchy like skin, while remaining conductive," Wang said.