Scientists at the Lawrence Berkeley National Laboratory in collaboration with NASA's Ames Research Center are using 3-D visualizations based on x-rays to understand how the microscopic structures of spacecraft heat shield and parachute materials would survive extreme temperatures and pressures.
One focus of the study is to see how these would fare under simulated atmospheric entry conditions on Mars.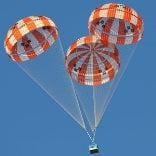 Mars missions will be subjected to harsh entry conditions.Missions such as human exploration of Mars and further into deep space will require a new type of heat shield that is flexible and can remain folded until needed. An umbrella-like shield of woven carbon fiber material (shown in this video) was subjected to temperatures of up to 3000˚F.
With x-ray imaging, 3-D behavior at the microstructure level can be viewed as the sample materials are heated, stretched to the breaking point and subjected to a mixture of different gases found in other planet atmospheres.
Ames researchers can blast materials with a blowtorch that accelerates hot air to velocities above 11,000 mph, with temperatures exceeding that at the surface of the sun. They can test parachutes as well as the heat shields at their wind tunnel facilities, which can produce supersonic wind speeds faster than 1900 miles per hour.
Experiments being conducted at a Berkeley lab advanced light source (ALS) experimental station capture a sequence of images as a sample is rotated in front of an x-ray beam. These images, which provide views inside the sample can resolve details less than 1 micron in order to form detailed 3-D images and animations of samples
"Before this collaboration, we didn't understand what was happening at the microscale," says Michael Barnhardt, a senior research scientist for NASA. "X-rays gave us a way to peek inside the material and get a view we didn't have before."
With this understanding, the researchers say the will be able to design new materials with properties tailored to a certain mission.
"What we're trying to do is to build the basis for more predictive models," he says. Rather than build and test and see if it works, the x-ray work could "reduce risk and provide more assurance about a new material's performance even at the drawing board stage."