Solar-Storage Peaker Plant for Kaua'i
Engineering360 News Desk | February 06, 2017
In a power purchase agreement executed with Kauaʻi Island Utility Cooperative, AES Distributed Energy, Inc.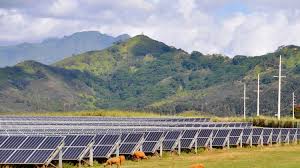 A Kauai Island Utility Cooperative solar project. Credit: Kauai Island Utility Cooperative will build, own, and operate a facility to provide solar power and battery-based energy storage for optimal balancing of generation with peak demand.
The project will combine 28 MW of solar photovoltaic capacity with 20 MW of five-hour duration batteries on former sugar land on Kauaʻi's south shore. It will be the largest solar-plus-utility-scale-battery system in the state of Hawaiʻi.
Once completed, the facility will generate 11% of the island's electricity and push the share of renewable generation above 50%. Energy from the project will be priced at 11 cents per kWh.
Pending state and local regulatory approvals, the project is expected to be on-line by late 2018.