Advanced Drilling Tech Withstands Geothermal Heat
Engineering360 News Desk | January 22, 2017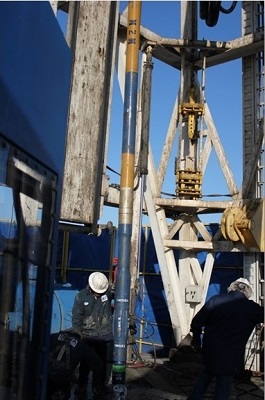 A Baker Hughes geothermal drilling operation in progress. Credit: U.S. Department of Energy The development of new drilling technology funded by U.S. Department of Energy's Geothermal Technology Office could advance the state of geothermal resource exploitation.
Other subsurface sectors, such as fossil and nuclear energy, can also leverage this development for their own benefit.
The advanced drilling system was designed and demonstrated by Baker Hughes Incorporated, a global oilfield services company, for application in extreme temperatures (300 C or 572 F) and pressures at depth in crystalline rock formations.
The 'drill directionally at extremely high temperatures' system uses a high-temperature lubricant in the drilling fluid, a full metal drill bit to break the formation, and a full metal drilling motor known in the drilling industry as a "metal-to-metal motor". The company successfully directionally drilled with this system in a deep geothermal well, and the metal-to-metal motor operated for a continuous 270 hours.
The U.S. Department of Energy considers the potential contributions of this advance significant, noting that expanding Enhanced Geothermal Systems alone could eventually lead to more than 100 gigawatts of economically viable electric generating capacity in the continental U.S., enough to power more than 100 million homes.