RNA-Infused Clay Nanosheets Protect Crops
Engineering360 News Desk | January 13, 2017
An environmentally sustainable alternative to chemical pesticide usage for crop protection has been developed by researchers at the University of Queensland.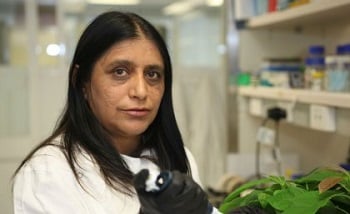 Research leader Professor Neena Mitter helped develop the chemical pesticide alternative. Credit: University of QueenslandBioClay is a spray of nano-sized degradable clay used to release double-stranded RNA (dsRNA). The formulation protects plants from specific disease-causing pathogens. The dsRNA is loaded onto non-toxic, degradable, layered double hydroxide clay nanosheets. Topical application to tobacco plants provided evidence for dsRNA uptake in plant cells and for silencing of homologous RNA. A single spray of BioClay provided virus protection for at least 20 days.
"Once BioClay is applied, the plant 'thinks' it is being attacked by a disease or pest insect and responds by protecting itself from the targeted pest or disease. A single spray of BioClay protects the plant and then degrades, reducing the risk to the environment or human health," said Professor Neena Mitter.