Plant Vaccines Engineered to Replace Chemical Pesticides
S. Himmelstein | April 09, 2018
An opportunity for the agricultural sector to ditch traditional pesticides is on the horizon. A new approach to crop plant protection involves a vaccine that triggers RNA interference — an innate defense mechanism of plants, animals and other eukaryotic organisms against pathogens.
Researchers from the University of Helsinki Finland, and the French National Centre for Scientific Research (CNRS) are developing technology to vaccinate plants against pathogens with double-stranded RNA (dsRNA)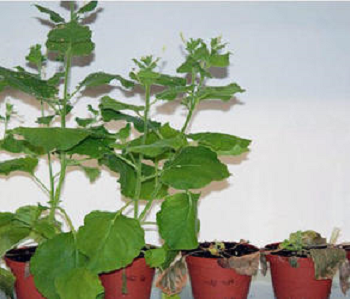 The two plants on the left received an RNA vaccine while the two on the right did not. All the plants were exposed to a virus. Source: Annette Niehl and Manfred Heinlein, Institut de Biologie Moléculaire des Plantes (IBMP), CNRS, Francemolecules that can be sprayed directly on the leaves. The environmentally-friendly pest control agent can be targeted to the chosen pathogen by using RNA molecules which share sequence identity with the pest's genes and prevents their expression.
Emerging technologies for crop protection include the external treatment of plants with dsRNA to trigger RNA interference. However, using this method in greenhouses and fields depends on the dsRNA quality, stability and efficient large-scale production.
The researchers used components of the bacteriophage phi6 to engineer a stable and accurate in vivo dsRNA production system in Pseudomonas syringae bacteria. After being reprogrammed to multiply dsRNA sequences homologous to tobacco mosaic virus, the "vaccine" was demonstrated to inhibit virus propagation when applied to infected tobacco plants.
The new system is based on the replication of dsRNA by an RNA-dependent RNA polymerase, enabling production of high quality, long dsRNA molecules.
The research is published in Plant Biotechnology Journal.