New Mic Could Bolster SONAR Applications
John Simpson | December 02, 2016
Engineers from the University of Nebraska-Lincoln (UNL) and China's Xi'an Jiaotong University have designed a device with greatly enhanced sensitivity to the low-frequency sound waves that proliferate miles beneath the ocean's surface. They believe the design could bolster SONAR applications ranging from communication to navigation and defense.
The team developed the microphone by embedding a network of silver nanoparticles in a hydrogel consisting of about 90% water and sandwiching the gel between two electrodes. The resulting device is roughly 6,000 times more sensitive to acoustic waves than capacitive sensors incorporating silver nanowires, the researchers report. When picking up the low-frequency sound waves that persist at great depths, it produces a signal roughly 30 decibels stronger than commercial counterparts.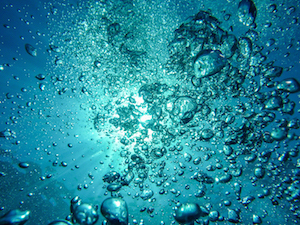 When picking up the low-frequency sound waves that persist at great depths, the microphone produces a signal roughly 30 decibels stronger than commercial counterparts. Image credit: Pixabay.Because water dissipates most of the electromagnetic waves that enable satellite-based GPS, submarines and other submersibles often rely on low-frequency bandwidths. But many existing underwater microphones are made from ceramics, which generally absorb and register only about 20% of the low-frequency acoustic waves traveling through water, says study co-author Li Tan, UNL associate professor of mechanical and materials engineering. The other 80% is reflected, yielding a weaker signal.
Although the water content of the team's hydrogel allows it to register most of the acoustic waves that strike it, the device's sensitivity also stems partly from a surface-level phenomenon known as an electrical double layer. This double layer of oppositely charged atoms naturally assembles between a conductive electrode on the hydrogel's surface and sodium chloride dissolved into the hydrogel itself.
The two charged layers are themselves separated by a neutral layer of molecules just nanometers in width, a boundary much narrower than those found in traditional capacitors. This essentially gives the device extra room to build and hold an electric charge thousands of times larger than it otherwise could.
But Tan and his colleagues faced a problem: water and hydrogel respond only to pressures greater than those usually produced by sound waves. So the team devised a multistep process for embedding the hydrogel with a network of branching nanoparticles.
When the device receives acoustic waves at a 90-degree angle, they compress the hydrogel just enough to enlarge the distance between its branches and trap more of the electric charges conducted by electrodes on either side of the hydrogel. When acoustic waves instead strike the hydrogel at a more acute angle, the distance between branches closes and reduces its ability to hold the charges.
These variations make the device responsive to a relatively broad range of frequencies and sensitive to acoustic waves coming from multiple directions, Tan says. And the natural conductivity of the hydrogel—especially when compared with ceramics, which are insulators—helps the device to more efficiently transform those waves into an electronic signal.