Cloaking Technology May Shield Objects Underwater
S. Himmelstein | May 11, 2018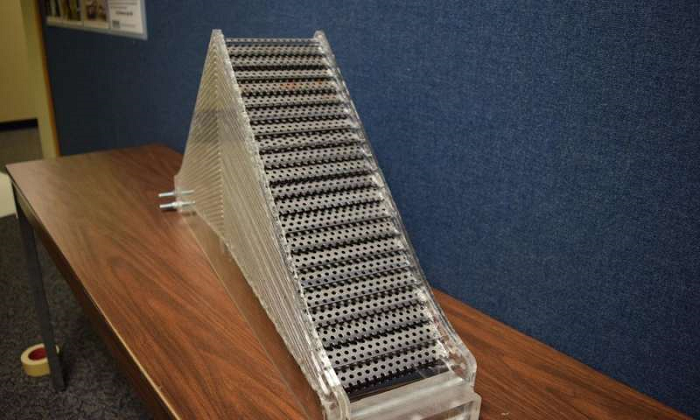 Acoustic ground cloaks redirect approaching waves around an object without scattering the wave energy, concealing the object from the sound waves. This image is a profile picture of the assembled perforated plate ground cloak. Source: Peter Kerrian
An acoustic ground cloak may soon be concealing underwater objects from detection by means of bending approaching sound waves around an object. At the 175th Meeting of the Acoustical Society of America, held May 7-11, 2018, in Minneapolis, Pennsylvania State University researchers discussed their cloaking technology and explained its potential contributions to real-world applications, such as acoustic materials to dampen sound and appear invisible underwater.
The development focuses on engineering a metamaterial that redirects sound waves around an object as if it were not there. The unit cell — the smallest component of the metamaterial — must be smaller than the acoustic wavelength of interest. Acoustic cloaking underwater is more complicated relative to sound wave deflection in air because water is denser and less compressible than air.
A three-foot-tall pyramid composed of perforated steel plates was placed on the floor of a large underwater research tank. A source hydrophone inside the tank produced acoustic waves between 7,000 Hz and 12,000 Hz, and several receiver hydrophones around the tank monitored reflected acoustic waves.
The researchers observed that the wave reflected from the metamaterial matched the phase of the reflected wave from the surface, and that the amplitude of the reflected wave from the cloaked object decreased slightly. These results demonstrate that this material could make an object appear invisible to underwater instruments like sonar.
The flat surface of the bottom of the tank was mapped by linear coordinate transformation, enabling determination that space was compressed into two triangular cloaking regions consisting of the engineered metamaterial.