Factors Leading to Concrete Bridge Cracks
John Simpson | November 25, 2016
Penn State University researchers have analyzed inspection data from the state's concrete bridge decks to identify the key factors that contribute to premature cracking—as well as the effects of cracks on the long-term durability of the bridges.
Among their conclusions:
· Higher concrete strength is associated with higher deck crack density.
· Lower total cement-based materials and higher Portland cement replacement with supplementary materials resulted in less cracking.
· Decks constructed with half-width procedures cracked four times more than decks constructed with full-width procedures.
· Epoxy-coated rebar was effective in resisting corrosion, even in cracked concrete and at the location of cracks.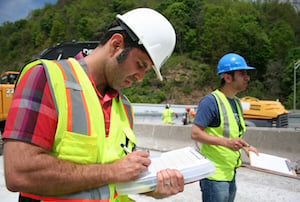 When the current infrastructure was built in the 1950s, it was constructed for that era's traffic demands, with little focus on maintenance. To assess the state's bridges, they surveyed 71 key PennDOT employees from the design, construction, bridge inspection and materials units to collect and document details about their experience with early-age cracking as it relates to long-term bridge deck performance. Inspection data from both newly constructed and older concrete bridge decks was then collected and analyzed.
The team inspected 40 existing concrete bridge decks and obtained 19 core samples that were extracted from the decks and analyzed at Penn State laboratories. In addition, PennDOT crack inspections from 163 newly constructed bridge decks were also summarized and analyzed.
"When the current infrastructure was built in the 1950s under President Eisenhower, it was built for that era's traffic demands, with little focus on maintenance," notes Aleksandra Radlińska, assistant professor of civil engineering, who along with associate professors Farshad Rajabipour and Gordon Warn carried out the study. "Few, if any, expected the number of vehicles in the nation to increase by 300% and the nation's population to increase by 91%."
In addition to better understanding the factors that contribute to premature cracking, the researchers were able to create a deck performance database to enable a more detailed data collection process and better monitoring of the state's bridge decks going forward. The database will allow for the development of deterioration models to help predict future performance and service lives of concrete bridge decks and improve lifetime maintenance costs.
"There is no one solution to fix it all," Radlińska says. "Every bridge is different, so we have a lot of data points that connect to specific models, which will allow PennDOT to determine the best remediation strategies for these deteriorated bridges."