Self-Charging Tag Tracks Fish for Life
John Simpson | October 12, 2016
The Department of Energy's Pacific Northwest National Laboratory (PNNL) has developed a self-charging tracking tag for fish behavioral studies.
The tag uses a flexible strip containing piezoelectric materials, which generate electricity through physical movement. It emits tiny beeps that are recorded by underwater receivers and is designed to track many different species, including long-living fish such as sturgeon and migratory species such as eel and lamprey.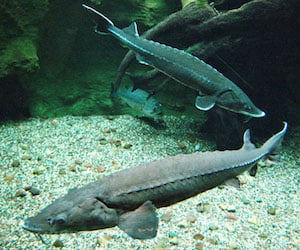 The self-powered acoustic tag can help scientists better understand how dams and ocean energy devices affect fish behavior. Image credit: Courtesy of swimfinfan/Flickr via PNNL.
"Our self-powered acoustic tag can help us better understand how dams and ocean energy devices affect fish behavior," says PNNL Chief Scientist Zhiqun "Daniel" Deng. "Sturgeon are ancient fish and have been on this planet for millions of years. This tag can help us mitigate the impacts of human activities and help these fish survive many more years."
A tag's ability to power itself is the latest upgrade to the Juvenile Salmon Acoustic Telemetry System, which PNNL has developed continuously since 2001 to evaluate how fish move near hydroelectric dams and other water structures. Researchers gradually made the system's tag smaller and more energy efficient, but it could only beep as long as the tiny battery inside it produced power—typically about 100 days. The new tag is designed to work as long as the fish carrying it swims.
The self-powered fish tag has three parts: a piezoelectric composite strip, a circuit board and a beeping transducer. It is configured in two lengths to accommodate differently sized fish: 100 mm and 77 mm. The longer variety weighs about the same as a paperclip, or 1.05 grams, while the shorter one weighs 0.80 grams.
Deng and his team initially tested the concept in the lab with a robotic fish tail. Next, the scientists tried it out in two live fish, a white sturgeon and a rainbow trout. They surgically inserted a tag just under the skin near each fish's rear dorsal fins.