Fuel Cell-powered Plane Takes Flight
Engineering360 News Desk | September 30, 2016
A four-seat passenger aircraft powered by a hydrogen fuel cell system completed a 15-minute flight in late September, taking off and landing at Stuttgart Airport in Germany. The twin-fuselage HY4 was developed by the DLR Institute of Engineering Thermodynamics, Hydrogenics, Pipistrel, H2FLY, the University of Ulm, and Stuttgart Airport (watch the video).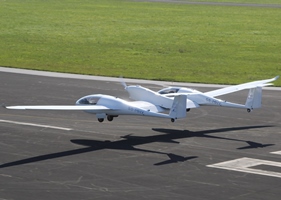 The HY4 on its maiden flight. Image source: DLRThe power train includes a hydrogen storage system, a low-temperature proton exchange membrane hydrogen fuel cell, and a high-performance lithium battery. The fuel cell converts hydrogen directly into electrical energy and an electric motor uses the power generated to propel the aircraft. The battery delivers peak power loads during take-off and when climbing.
Developers say the significance of this is that if hydrogen is produced via electrolysis using power from renewable energy sources, the HY4 can fly while generating no emissions.
The aircraft has a motor output of 80 kilowatts, a maximum speed of approximately 200km/h, and a cruising speed of 145km/h. Depending on speed, altitude, and load, it can achieve a range of between 750-1500 km.