Oxybenzone Damages Reefs
John Simpson | September 23, 2016
The Hawaiian state government is asking people who enter the ocean to avoid using sunscreens that contain oxybenzone, as recent studies have indicated that it can cause deformities in coral larvae (planulae), making them unable to swim, settle out and form new coral colonies.
"Researchers have found oxybenzone concentrations in some Hawaiian waters at more than 30 times the level considered safe for corals," says Dr. Bruce Anderson, administrator of Hawaii's Department of Land and Natural Resources (DLNR) Division of Aquatic Resources.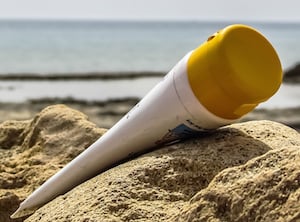 Oxybenzone is an organic compound found in some sunscreens. Image credit: Pixabay. A 2015 study led by Dr. Craig Downs, of Haereticus Environmental Laboratory, examined the presence oxybenzone on coral reef areas off the Hawaiian islands of Maui and Oahu. The study found concentrations of the compound ranged between 800 parts per trillion and 19 parts per billion and characterized it as a significant ecological threat to the reefs.
Oxybenzone is "highly toxic to juvenile corals," the study found, contributing to coral bleaching and damage to the DNA of corals, acting as an endocrine disruptor and causing juvenile coral to become grossly deformed—by changing their shape and increasing their mouth to five times the normal size.
According to the DLNR, in addition to damaging coral, oxybenzone may have negative effects on human health. "Oxybenzone and two other sunscreen chemicals, octinoxate and homosalate, have all been shown to cause disruptive reproductive system effects, due to their hormone-like activity," the agency says in a recent news release.
As an alternative to oxybenzone-containing sunscreens, Anderson advises beachgoers to use sunscreens with mineral filters, such as zinc oxide or titanium dioxide, as well as those that are water resistant and less likely to come off in the ocean.