Engineering Education: Ready for a Revolution?
Winn Hardin | September 20, 2016
When it comes to undergraduate engineering and computer science education, two common criticisms prevail. First, employers say that graduates aren't equipped with the skills — communication, ethical responsibilities, cross-discipline collaboration — required for today's engineering environment. Second, engineering colleges and the private sector alike face the challenge of attracting students and faculty from diverse backgrounds.
To address these obstacles, the U.S. National Science Foundation formed an initiative known as "REvolutionizing engineering and computer science Departments," or RED. Over the last two years, NSF has awarded $26 million to 13 universities in an effort to enact groundbreaking, scalable, and sustainable changes in undergraduate education.
These five-year, $2-million awards have multiple goals. One is to advance engineering students' core technical courses during their sophomore and junior years. The idea is to build upon first-year engineering experiences as well as capstone/senior design projects that already are well-publicized and funded. In these crucial middle years of undergraduate study, the RED program aims to develop internship opportunities, encourage research with faculty, and promote extracurricular professional activities.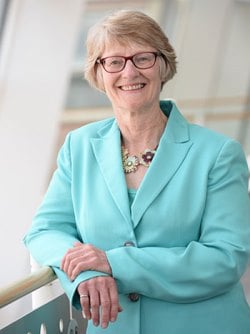 Sarah Rajala, Iowa State University.Besides ensuring that students develop deep knowledge in their discipline, the RED projects target professional skills such as design, leadership, entrepreneurship, creativity, multidisciplinary teamwork, and lifelong learning, and hope to foster an understanding of historical and contemporary social contexts.
One premise of RED is that a college's engineering department should act as the "unit of change" so that progress can be scaled and adopted broadly across a variety of academic institutions, says Pramod Khargonekar, NSF assistant director for engineering. That means in some cases transforming department structure and providing incentives to faculty to stimulate change in policies, practices, and curricula.
In many instances, such departmental transformation signals the need for a culture change among faculty. Here's how several RED award recipients plan to overcome this and other obstacles on the quest to revolutionize undergraduate engineering and computer science education.
Let It RIDE
Faculty members at Iowa State University's Department of Electrical and Computer Engineering (ECE) suggested several curriculum reforms, but found mixed support among their peers.
"There was a smaller group of us who knew we had some good ideas for revising our curriculum, but we also knew it was going to take a little bit more than good ideas to get resistant faculty to change because we were a large, traditional ECE department," says Diane Rover, university professor, F. ASEE, F. IEEE, Electrical and Computer Engineering.
Backed by Sarah Rajala, dean of the College of Engineering, and ECE department chair, David Jiles, as principal investigator, the department applied for and received a 2016 NSF RED grant. The project, known as "Reinventing the Instructional and Departmental Enterprise (RIDE) to Advance the Professional Formation of Electrical and Computer Engineers," will engage students, faculty, engineers, and others in collaborative processes to "collectively and systematically transform" the department and the engineers it trains.
One component involves a review of intrinsic and extrinsic motivations of faculty. Rover says that it's difficult for educators to change long-established habits. Factors such as high student enrollment and time demands on already overstretched faculty "require a lot of inertia to change," Rover says. "There are certain ways to do things, and you get efficient at it."
It becomes difficult, then, to make the case "that there are benefits to change given all the other pressures," Rover says.
Change may be inevitable, however, as electrical and computer engineering technologies have shifted from simple electronics to complex systems requiring instruction not only around fundamental hardware and software skills, but also the socio-technical aspects of responsible development.
The RIDE project also intends to broaden the participation of " underrepresented groups in ECE, especially women, through inclusive learning experiences," according to the grant proposal.
With the continued emphasis on multidisciplinary collaboration among today's engineers, the RIDE initiative intends to practice what it preaches as faculty from the Colleges of Engineering, Human Sciences, Design and Liberal Arts and Sciences will serve as instructors, project leaders, and researchers.
These cross-functional groups, dubbed "X teams," will expose students to new ideas beyond what ECE content experts provide. For example, one Design College professor will emphasize the idea creation process in core ECE courses to help students be more creative and innovative.
In tandem, "Y-circles" aim to engage faculty by bridging the engineering education research-to-practice gap through discovery and inquiry. Another component of the RED award requires scientific research on the department's change processes, which Iowa State will achieve through education and social science researchers.
Upon completing RIDE, the project's investigators hope to have accomplished two goals: enriching the student learning experience and creating an agile department able to respond to industry and societal needs, sustain innovations, and serve as a model to other electrical and computer engineering departments.
Setting a Re-course
As the recipient of one of the NSF's inaugural RED awards in 2015, Purdue University's School of Mechanical Engineering saw a prime opportunity "to lead a conversation about engineering education, student outcomes and having the will to change our academic culture for the better," says Edward Berger, associate professor of mechanical engineering.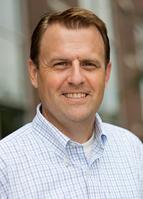 Edward Berger, Purdue University.That conversation addresses a primary RED objective of producing engineering graduates who are as competent professionally as they are technically. With traditional engineering education, Berger cites a lack of urgency to train students in the non-technical elements of engineering practice.
Purdue is focusing efforts on enhancing professional outcomes such as teamwork and innovation because modern engineering practice is among "the most collaborative, multicultural, complex and interconnected professions in human history," says Berger.
Like Iowa State's ECE department and others, the Purdue ME program recognizes the challenges in transforming engineering education culture. Because everyone has so many competing alternatives for how they can spend their time, "it's difficult to harness available time and energy toward significant change," Berger says.
As such, traditions about what and how faculty teach "are extremely slow to fade away," Berger says. "That's why professional skills tend be very challenging to integrate into the undergraduate curriculum."
In response, Purdue proposed to NSF an initiative called "re|course." Housed within the ME program, this initiative joins students, faculty and staff on small teams focused on "innovation and relentless experimentation" toward solving an important problem.
The entity's goal, says Berger, is to drive change through experimentation, data gathering ,and evidence-based decision-making, "all in the service of helping students achieve improved outcomes."
Because of NSF's requirement that one member of the senior research team be a social scientist, Purdue chose an anthropologist. In the first year of the grant, the school completed an ethnography of the ME department. Through surveys and interviews, RED investigators gained insights into how students, staff, and faculty go about the day-to-day business of engineering education.
For example, the department learned that both students and faculty seek more opportunities to connect with each other in academic and non-academic ways. Solutions could include arranging more social gatherings in the department, having students engage in mentored experiences like undergraduate research or study abroad, or re-thinking office hours to make them more accessible to students.
"Through careful but relentless testing of these ideas, we'll gradually develop the evidence basis we need to motivate change in the ME program," Berger says.
Diversifying Diversity Efforts
Engineering colleges throughout the U.S. have stepped up their initiatives to attract and retain women and ethics/racial minority students, but the Civil and Environmental Engineering (CEE) Department at Rowan University believes these goals toward diversity have stagnated.
"The lack of progress suggests that it is not enough to simply 'fix' the pipeline," the department states in its proposal for the NSF RED award.
Beena Sukumaran, Rowan University.Rowan's program, Rethinking Engineering Diversity, Transforming Engineering Diversity (REDTED), establishes "an ambitious plan" for curricular and extracurricular reform to increase the representation of women, underrepresented minorities and historically underserved groups.
The plan has multiple prongs, starting with the revision of admission criteria to promote a more diverse student body. A mentoring program pairs first-year and transfer students with juniors and seniors who can tutor and support them.
In the second and third years, existing engineering curriculum will transition from a narrow sub-discipline–based approach to a more inclusive system-based methodology designed to better resonate with students.
Another critical component is enhancing the perception and understanding of diversity and equality among students, faculty and administrators to improve the culture of inclusiveness. Additionally, bringing in diverse, nationally recognized guest lecturers aims to inspire and enrich students.
REDTED team leaders say the project will help faculty and administrators obtain a better understanding of the perceived barriers for underrepresented minorities in the field of engineering and identify strategies for developing a model of inclusivity. Investigators also will develop an online "transformation kit" outlining successful strategies for other engineering colleges to implement.
During the five-year duration of the grant, the department plans to increase underrepresented/underserved populations from 19.3% to above 50%, improve retention of all students from 85% to 95% and improve 5-year graduation rates of all CEE students from the current 68% to 80%.
"If we do not have students from various backgrounds and cultures," says Beena Sukumaran, department head of Civil and Environmental Engineering at Rowan University, "we cannot effectively compete in a global marketplace."
Editor's Note: Visit NSF [http://www.nsf.gov/news/news_summ.jsp?cntn_id=135379] to see a list of RED award recipients.