Regenerative Material Helps Heal Diabetic Wounds
Engineering360 News Desk | August 23, 2016
The complications of diabetic foot ulcers, which may necessitate amputation and in some cases cause death, prompted researchers from Northwestern University to devise a therapeutic regenerative bandage. A thermo-responsive material is used to help diabetic wounds heal four times faster than a conventional bandage.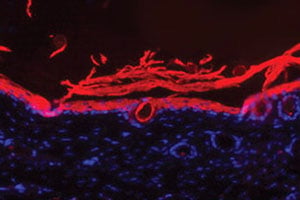 An immunofluorescence image shows regenerated dermal tissue (in pink) in wounds treated with the bandage. Image source: Northwestern University/ McCormick School of EngineeringFoot ulcers cause many serious problems for diabetic patients, says Guillermo Ameer, professor of biomedical engineering in the McCormick School of Engineering and surgery in the Feinberg School of Medicine. Existing treatments can incur high costs or significant side effects, such as increased cancer risk. The material features antioxidant properties to reduce inflammation and delivers a protein that bolsters the body's ability to heal itself. The thermo-responsive dressing is applied as a liquid that forms a gel when exposed to body temperature. Proteins are slowly released, recruiting stem cells to the wound and creating new blood vessels to increase blood circulation.
"The ability of the material to reversibly go from liquid to solid with temperature changes protects the wound," Ameer says. "Our material conforms to the shape and dimensions of the wound and can be rinsed off with cooled saline, if needed. This material characteristic can protect the regenerating tissue during dressing changes."
Compared with diabetic wounds receiving standard treatment, those dressed with the new bandage showed improved blood flow to the injury.