Artificial Intelligence Developed to Help First Responders
John Simpson | August 23, 2016
Artificial intelligence (AI) that collects data on temperatures, gases and other danger signals could help guide first responders safely through life-threatening situations.
Assistant for Understanding Data through Reasoning, Extraction and Synthesis (AUDREY), developed in part by NASA's Jet Propulsion Laboratory (JPL), is cloud-based software designed to be integrated with the Internet of Things (IoT) to communicate wirelessly with sensors worn by first responders. In the case of firefighters, for example, wearable sensors could determine location, heat in nearby rooms, the presence of dangerous chemicals and gases and other critical information.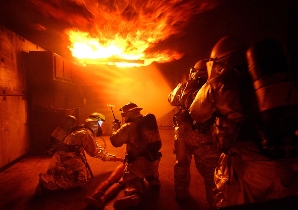 AUDREY could send alerts through a mobile device or head-mounted display. Image credit: USAF/Tech. Sgt. Rey Ramon."As a firefighter moves through an environment, AUDREY could send alerts through a mobile device or head-mounted display," says Mark James of JPL, lead scientist for the project.
The proliferation of miniaturized sensors and IoT devices can make an impact on first responder safety and situational awareness, says John Merrill, program manager for the U.S. Department of Homeland Security's Science and Technology Directorate. But he says that the "massive amount of data available to the first responder is incomprehensible in its raw state and must be synthesized into useable, actionable information."
As AUDREY "watches" an event, it can learn and start to make predictions about what resources will be needed next. Moreover, James says, the system is designed to recognize the specific roles of first responders in the field. This allows AUDREY to provide potentially lifesaving information customized to the various roles.
In June, the system was tested in a virtual demonstration at the annual Public Safety Broadband Stakeholder Meeting, held by the U.S. Department of Commerce, in San Diego. The system was fed data from a variety of sensors and asked to make safety recommendations, which were sent to a mobile device.