Sensors Help First Responders Triage in Mass Casualty Scenarios
Marie Donlon | November 28, 2018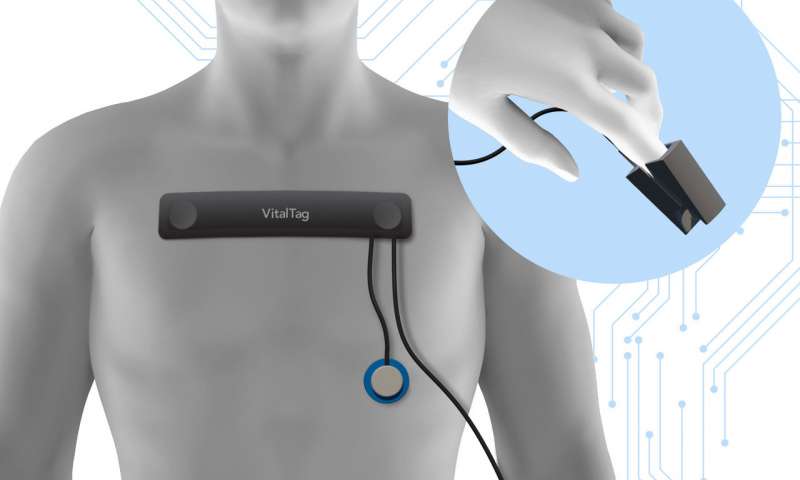 VitalTag will keep first responders connected to their patients via a suite of sensors and a mobile app. Source: PNNLDetermining who to treat first in a mass casualty scenario, be it shootings, multiple car pile-ups or natural disasters, often overwhelm first responders faced many victims all needing treatment at once.
Researchers from the U.S. Department of Energy's Pacific Northwest National Laboratory (PNNL) have developed an adhesive sensor capable of measuring and tracking a patient's vital signs, informing first responders of those who need immediate treatment and possible transport, quickening the pace at which they conduct triage.
The patent-pending suite of sensors, called VitalTag, monitor and wirelessly transmit vital sign measurements such as heart rate, blood pressure and respiration rate, along with other metrics such as shock index, blood oxygen levels and other data generated from a single-lead electrocardiogram. In a mass casualty scenario, first responders would view each victim's vital signs on an incident map, receiving an alert if those measurements worsen. To work, the stick-on sensor is fixed to a patient's sternum and via Wi-Fi transmits real-time patient data to mobile devices or laptops.
"First responders told us they need a device to continuously monitor patients in demanding environmental conditions," said Grant Tietje, a former first responder who manages the Responder Technology Alliance at PNNL.
Additionally, VitalTag eliminates bulky, costly medical equipment, consolidating everything into a wearable medical device that enables first responders to monitor several patients at once. To develop the sensor, researchers, led by PNNL data scientist Luke Gosink, embedded intelligence into the devices by way of machine learning algorithms to interact with sensor hardware, thereby creating an intuitive user interface.
Said Gosink, "With VitalTag, many more patients can be monitored simultaneously and continuously. More situational awareness, like that achieved with VitalTag, can result in better patient outcomes."
Although still in development, researchers envision a number of applications for the technology beyond triaging a mass casualty scenario. Among those applications, the sensors could monitor veterinary medicine, military warfighters and high-performance athletes.
VitalTag is just one in a number of wearable devices for medical applications. It joins recently developed technologies such as soft contact lenses embedded with electronics for the purpose of drug delivery, as well as wearable UV sensors to measure a person's sun exposure.