Video: Fabric-covered wind turbine blades are set to soar
S. Himmelstein | November 01, 2021
The energy generated by wind turbines may be viewed as clean and green but decommissioned turbine blades are not. The mounting volume of obsolete and broken blades requiring disposal and the associated landfilling burden has spurred developers to seek materials amenable to recycling. In pursuit of a circular economy for wind farms, renewable energy developer Enel Green Power is partnering with ACT Blade, a startup based in Scotland and designer of wind turbines covered with a recyclable fabric.
The fabric design and its application were inspired by principles adopted for the sails used by boats competing in the America's Cup. Its use results in lighter weight turbine blades due to a slender supporting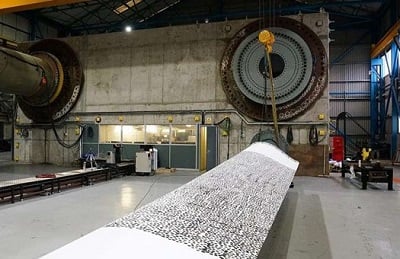 Source: ACT Bladestructure made of composite material completely covered with the technical fabric. The tensioned textile-covered rotor blades feature a shape that can be actively changed to control loads, and the reusable fabric can be recovered easily once the blades are dismantled at the end of their useful life.
The new blades with the same weight as conventional ones are longer and therefore ensure increased production of electricity. Costs are reduced as the structure is composed of fewer materials in relation to its length, and the adoption of more streamlined modular production processes leads to expected cost savings of up to 17%.
The structural integrity and operational performance of the design was recently demonstrated by blades installed on a wind turbine in Glasgow.