A Japanese steel manufacturer has developed a water pipeline with a structural wave design that allows it to bend and compress without rupturing. The design could benefit utilities in earthquake-prone regions.
JFE Holdings manufactured the pipe that includes wave features installed at key locations along its length to absorb ground deformation, such as movements caused by earthquakes and landslides or from undermining associated with scour during hurricanes and floods. Tests carried out at Cornell University's Geotechnical Lifelines Large-Scale Testing Facility confirmed the design's performance, the developers say.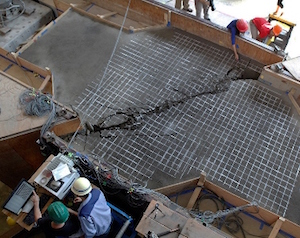 A pipe section outfitted with more than 120 monitoring instruments was buried in 80 tons of soil. Image credit: Robert Barker, Cornell University."It surpassed expectations," says Tom O'Rourke, professor of civil and environmental engineering at Cornell.
Multiple tests were carried out, including an earthquake simulation in which a 28-foot-long section of the pipe outfitted with more than 120 monitoring instruments was buried in 80 tons of soil. The test mimicked a fault rupture. Such a fault can occur during an earthquake when global plates slip past each other, causing the ground to shift and deform. A large, hydraulically powered "split box" imposed two feet of fault rupture along a 50-degree angle, and forced the buried pipeline into a combination of compression and bending.
The results may be significant for Los Angeles, which is upgrading its water utility system through the "Resilience by Design" program, and other cities whose aging utility systems cross fault lines. Los Angeles' water utility system crosses more than 30 fault lines as it supplies water to more than 4 million residents.
San Francisco also has implemented fault rupture hazard solutions for pipelines validated by Cornell. And the cities of Portland, Ore., Seattle, Wash. and Vancouver, B.C. are all considering upgrades based on recent test results.