Alcoa Opens Metal Powder Plant for 3D Printing
John Simpson | July 19, 2016
Alcoa has opened a manufacturing facility to produce proprietary titanium, nickel and aluminum powders for 3D printing of aerospace parts.
Located at the Alcoa Technical Center outside Pittsburgh, the additive manufacturing center will focus on feedstock materials, processes, product design and qualification. The new facility will form part of Arconic following its separation from Alcoa's traditional commodity business in the second half of 2016.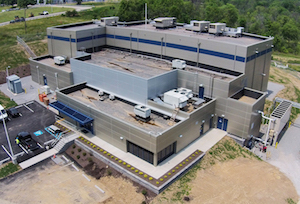 The new facility is part of a $60 million investment intended to meet growing demand for 3D-printed aerospace components. Image credit: Alcoa.According to Alcoa, metal powders used for 3D printing durable, high-quality aerospace parts are currently available in only limited quantities. The new facility—part of a $60 million investment in additive manufacturing materials and processes that adds to Alcoa's existing 3D-printing assets in California, Georgia, Michigan, Pennsylvania and Texas—is intended to meet "fast-growing demand for aerospace components made using additive technologies," the company says.
In addition to producing powders, Alcoa says it will focus on advancing a range of additive techniques, including its recently unveiled Ampliforge process, a hybrid technique that combines additive and traditional manufacturing. Using Ampliforge, Alcoa designs and 3D prints a near-complete part, then treats it using a traditional manufacturing process, such as forging.
The process enhances the properties of 3D-printed parts, increasing toughness and strength compared to parts made solely by additive manufacturing, while reducing material input. Alcoa is piloting the technique in Pittsburgh and Cleveland.
Alcoa has manufactured 3D-printed products for the past 20 years and gained additive-manufacturing capabilities in titanium and other specialty metals for the aerospace market through its 2014 acquisition of RTI International Metals. The company also owns and operates one of the world's largest hot isostatic pressing (HIP) complexes in aerospace. HIP technology strengthens the metallic structures of traditional and additive-manufactured parts made of titanium and nickel-based super alloys.