Advanced-Material Metal Additive Manufacturing on the Cutting Edge
Shawn Martin | October 10, 2018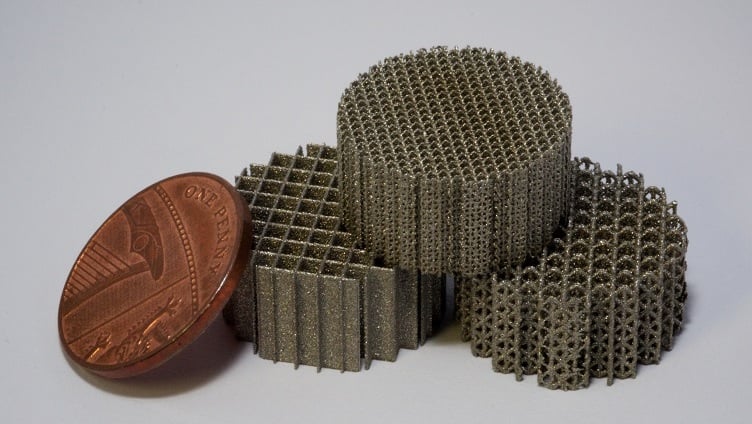 Selective Laser Melting (3D Metal Printing) of Lattices | Source: Engineering at Cambridge (Jonathan Harris)
The initial concept of additive manufacturing -- to produce functional prototypes -- was just the staging ground. AM is gaining market share as manufacturers realize the full benefit of additive manufacturing, compared to traditional machining methods. Now, with it's ability to produce metallic parts, the technology is pushing the limits of what is possible.
Conventional Limitations
The success of metal AM is in part due to the limitations of conventional advanced-materials powdered metallurgy (PM), like metal injection molding (MIM). Conventional PM processes can be used to produce advanced-material metallic parts from materials like titanium alloys, but these include detail limitations, design restrictions and often higher unit costs.
Advanced material MIM is typically carried out in a vacuum furnace. Metal powders are sintered at temperatures up to 1,640° C. Producers like Praxis Technology have carved out a market for titanium MIM, producing small, complex geometries at a lower cost when part volumes are greater than 10,000 units. However, lower part counts and increased part sizes pose challenges.
The limitations of advanced-material MIM prohibit its use when dealing with larger part volumes. This is due to the high-temperature sintering process, which can lead to density gradients, inhomogeneous shrinkage during the densification process and geometric distortions. It also has longer cycle times and is cost prohibitive when dealing with small to medium production runs due to the overhead associated with tool and die production.
Advanced Material AM
Advanced material AM fills a need where conventional PM processes fail to offer an economical and viable solution. It also offers a host of added benefits that have allowed the technology to penetrate key industries.
There is a wealth of AM technologies used to produce metallic parts, including powder bed technologies like selective laser melting (SLM), electron beam melting (EBM) and precision inkjet printing, as well as powder bed technologies, which may be referred to as laser metal deposition or laser cladding.
Each technology offers unique benefits. For example, SLM and EBM are ideal methods when producing complex shapes with internal cavities, lattice structures and thin walls. These allow for an overall part-count reduction as multiple intricate parts can be combined into a single-part design.
Blown powder technologies provide for higher production rates, the use of coarser powders and accommodate larger geometries. Inkjet printing offers high tolerances, good surface finish and resolution, but must be sintered in a furnace following powder deposition, so that the binder and powdered metal can be consolidated through a densification process.
Added benefits of metal AM include freedom of design with few restrictions, reduced part weight through incorporations of lattice and foam inner structures, short cycle times and the elimination of expensive tooling and dies. It also offers the ability to print out-of-production spare parts on demand and is supported by a wide range of alloys developed specifically to support metal AM processes.
Conclusion
Additive manufacturing is not as much a threat to conventional metal powder technologies as it is an opportunity to improve market penetration. PM has developed into a highly reliable method for manufacturing ferrous and non-ferrous parts. The advent of metal AM not only helps increase market penetration but has also promoted advanced powdered materials development.
The European Powder Metallurgy Association reported that annual worldwide metal powder production exceeds one million tons. The increased demand is due to continually and rapidly evolving technologies, which now includes metal AM. Key industries — including the aerospace industry, automotive industry and medical industry — have created this demand and are incorporating metal AM as a cost-conscious and viable option for parts manufacturing.
PM and metal AM have become increasingly attractive when dealing with advanced metallic materials due to the reduced cost in the bill of materials. From the production of heat sinks for electronic components, the production of tools and dies for conventional manufacturing, to general parts designs for key industries, metal AM and PM have become a reliable choice offering unrivaled accuracy, repeatability and freedom of part design.
Resources:
Metal Additive Manufacturing / 3D printing: An Introduction