All-in-One Laptop Antenna Saves Space, Reduces Interference
John Simpson | July 12, 2016
British start-up Smart Antenna Technology (SAT) has developed a multi-function antenna for laptops that fits into the extremely limited space of the hinge cavity. Developed by scientists at the University of Birmingham, the device combines antennas for Wi-Fi, GPS, Bluetooth, 3G/4G LTE and WiGig 60GHz wireless standards in one unit.
According to SAT founder Sampson Hu, conventional antennas cannot be located immediately next to each other because of signal interference, which leads to reduced performance.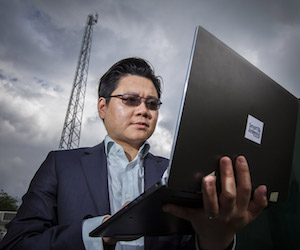 SAT Founder Sampson Hu developed the MIMO antenna system while completing his PhD at the University of Birmingham. Image credit: John James."Within current [laptops], the antennas for Wi-Fi or a mobile signal need to be separate so there is no interference of frequencies," Hu says. "If the laptop has a metal casing, then it is impossible to embed an antenna at the top of the laptop screen or motherboard, and the antenna must sit in the hinge cavity."
The hinge cavity is a very confined space, in which laptop manufactures can fit only two conventional antennas, one for Wi-Fi and one for 3G/4G LTE, Hu notes. If conventional antennas are brought this close together, interference degrades efficiency and increases battery usage.
Additionally, if a laptop has a metallic cover, there is no other space in which to locate the second conventional Wi-Fi antenna and 3G/4G LTE antennas to support Multi-Input-Multi-Output (MIMO) functionality, which provides enhanced data download rates, he adds.
"That's the problem we have overcome with our integrated MIMO antenna system. All the antennas are combined together as one single system," Hu says.
The patented MIMO antenna system is designed to improve both data download rates and battery life. Moreover, wrapping the antennas into one assembly yields size and cost reductions, according to SAT.
"Another problem that affects laptops is [that] if you are working on a laptop and your hand is placed on the keyboard, it often interferes with any of the five antennas," Hu notes. "With our invention, there is no interruption."
SAT is in discussions with Sony to manufacture the antenna system at the electronics giant's UK Technology Centre, near Cardiff, Wales.