Tesla Considers a Commercial-grade Pickup
Engineering360 News Desk | June 22, 2016
Tesla is known for designing and manufacturing mid- to high-end vehicles powered by green-friendly electricity, and the company may be on the brink of developing a commercial-grade pickup meant to rival Ford's popular F-150.
With existing electric car technology relating directly to trucks, it's no wonder that as early as 2013 the company officially announced it would enter into the pickup truck manufacturing game. Soon after, however, then Vice President Jerome Guillen dismissed the idea. But with Guillen's resignation has come a renewed interest in putting out a pickup that not only works in the field on a pragmatic level, but appeals to the market. Case and point, the best-selling vehicles in the U.S. for the years 2014 and 2015 were pickup trucks.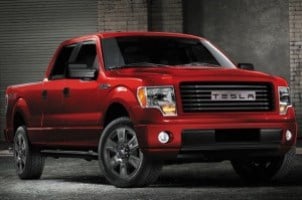 Could a Tesla Pickup Rival Ford's F-150? Photo by Teslarati.According to Teslarati, truck owners can be categorized into three groups: weekend warriors, off-roaders, and workhorses. A fourth category might be the owner who requires a dependable pickup for all three tasks. But the common denominators are power, payload, and durability (it's not uncommon for an owner to trade in his old workhorse truck with well over 100,000 miles on it).
Without these three components in play, prospective truck owners are going to shy away from an electric product. Some of the criteria Tesla designers will have to meet if they are going to compete with best-selling carbon fuel burning trucks are V8-like performance, extended four-door cabs, seven ft cargo beds, and a ½ ton to 3,000 lb payload capacity. Last but not least, a driving range of at least 150 miles while fully loaded.