Clean Water, Big Price Tag
Kevin J. Harrigan | June 07, 2016
Each February, a tasting panel assembles in Washington D.C. Judges are selected for their palate that has been refined after years of testing in a highly scrutinized industry. During the testing, the judges are passed samples to taste. Each judge sips while analyzing for bouquet and taste, as well as any outstanding characteristics.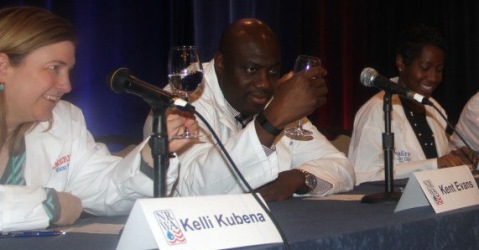 Judges at the Great American Water Taste Test analyze a sample. Image source: NRWA Based on description, it might be easy to mistake this event for a wine tasting. In fact, this is the annual Great American Water Taste Test held by the National Rural Water Association. The goal of this event, according to NRWA Deputy CEO Matt Holmes, is to show that "no one should think that bottled water is better regulated, better protected, or safer than tap water."
The 2016 winner was the Glenbrook Water Cooperative that supplies tap water to Glenbrook, Nev., near Lake Tahoe. The utility has a rare EPA drinking water filtration exemption due to the high quality of Lake Tahoe's water. Nonetheless, the water is processed using both ozone and ultraviolet (UV) disinfection before it is pumped to communities.
(Subscribe to the free Water & Wastewater newsletter from IEEE GlobalSpec.)
This contrasts with narratives in other U.S. communities that are dealing with water contamination concerns. The leaded tap water of Flint, Mich., has received perhaps the most attention, but similar stories are being told in Jackson, Miss.; Pavilion, Wyo.; Salem, Ore.; Hoosick Falls, N.Y.; Ithaca, N.Y.; Sebring, Ohio; Scarborough, Maine; and Newark, N.J., among others.
According to the 2016 Environmental Performance Index, a biannual study conducted by Yale University that assesses and ranks national environmental sustainability, the United States ranks 32nd in unsafe drinking water quality, with a score of 98.34 out of 100. More than 20 countries had a perfect score of 100.
This means that the United States has exceptional water quality when compared globally, but lags behind some other nations. Substantial engineering has brought clean potable water to millions across the United States, but a rank of 32nd seems to some observers to be deficient given the country's high standard of living.
Tapping the Source
A number of factors influence why water quality varies across the United States. First, consider the engineering challenges of providing clean tap water to the world's third-largest population spread across the world's third-largest country by area. The result is more than 150,000 water utilities, each with a unique set of challenges.
Second, filtration systems take significant engineering and equipment, and contaminants vary considerably across the country. The bedrock aquifer under New Hampshire and Maine contains levels of concentrated arsenic that must be removed by adsorptive media, oxidation or coagulation technologies. Water in Richland, Wash., must be processed by reverse osmosis or ion exchange to neutralize uranium contaminants.
Between 1994 and 1998, Milwaukee spent $89 million on new filters, particle counters, gas bubblers and other equipment in the wake of a Cryptosporidium outbreak that killed 69 people. The result is that many water utilities need custom purification solutions. These are neither cheap nor quickly implemented.
Toledo Safeguards Its Supply
Water contamination is also heavily influenced by pollution. In 1969 Time Magazine warned that Lake Erie, the water source for Toledo, Ohio, was dying as it was severely polluted by sewage and industrial wastewater. High nitrogen levels fed algae blooms that released the toxin microcystin. Fish kills soiled shorelines and pollution-tainted tributaries caught fire. Decades of activism, legislation and effort cleaned Lake Erie substantially, but recently algae blooms have returned, this time fed by increased agricultural runoff from surrounding watersheds.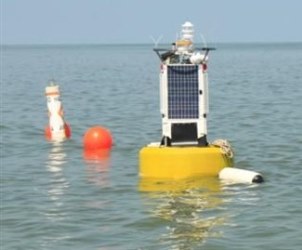 A buoy on Lake Erie monitors for algae blooms, among other environmental parameters. Image source: City of Toledo Toledo has responded by installing new carbon filter equipment and monitoring buoys. Even when cities and towns implement water purification strategies, it can be difficult to assess the stress on future water resources caused by changing populations and industries and the resulting pollutants.
Some water contaminants don't originate at the public water source at all, but come instead from the network of pipes that deliver water to homes. Water infrastructure in the United States has been perennially underfunded. Many local utilities rely on century-old pipes that are well past recommended service lives; some of these pipes are of unconventional materials such as wood or wood pulp.
Old plumbing systems frequently used lead pipes before the toxic effects of lead were known. Many of these pipes, especially lead "goosenecks," remain in use as they aren't harmful until they begin to corrode and leech lead into water. Some water treatment additives act as corrosion inhibitors in outdated plumbing networks. When Flint changed water sources and chemical treatments, lead began to seep from pipes into tap water.
Treading Water
According to the American Society of Civil Engineers, U.S. water treatment infrastructure is both underfunded and underappreciated. ASCE publishes the Report Card for America's Infrastructure every four years; in 2013 the non-profit professional engineering organization gave the U.S. drinking water infrastructure a grade of D, for "poor."
"Around the world you see countries where you can't even drink the water and our water is really good high quality," says Greg DiLoreto, the former CEO of Taulatin Valley Water District, 2013 ASCE president, and current chairman of the ASCE Committee on America's Infrastructure.
"We go to great lengths for water quality, to make sure that you can drink water in Alaska or in Florida or anyplace in this country and be assured that it's safe, clean and reliable," DiLoreto says. "Clearly that costs money to do."
He says that many of the challenges revolve around infrastructure investments. The focus typically is on funding water systems to make sure the 240,000 water main breaks that occur each year can be repaired. Comparatively little is earmarked for water quality improvement. "And that's the area where we find our water systems are falling short in this country," he says.
(Search the Engineering360 Product and Supplier guide for more on water treatment.)
In 1974, the Safe Drinking Water Act established the Environmental Protection Agency (EPA) as the sole regulator of public water systems in the United States. The EPA determines what qualifies as a contaminant and sets contaminant thresholds, and establishes water testing methods and programs to protect water supplies. As contaminant detection technologies have progressed, the SDWA has had five amendments added in an effort to further improve water quality. Three amendments were added in the past five years. As a result, many utilities are left trying to catch up with existing standards, even as new standards are pending.
A Fragmented Industry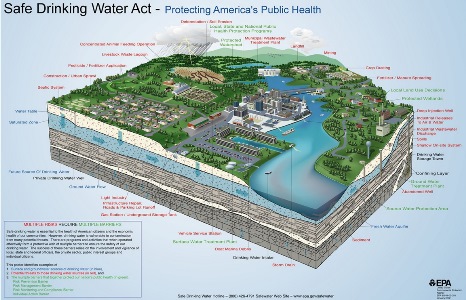 (Click to enlarge.) Common contaminant threats to drinking water supplies in an urban area. Image source: U.S. EPA Adding to the complexity of water quality challenges is the nature of the water industry itself. Larger municipalities often tap rural water supplies, while small towns band together to form water districts. This leaves water utilities competing with each other for resources such as water supplies, new customers and operations contracts.
Water utilities are also unique in that they belong to one of the few socialized industries in the United States, which ultimately limits revenue and reinvestment. Publicly owned water utilities are paid for in taxes and water rates, and few politicians campaign on the promise to raise rates. Privately owned utilities typically have rates set by a public utilities commission as water utilities are a natural monopoly.
Meanwhile, federal contributions to the Drinking Water State Revolving Loan Fund (DWSRF), a financing program to help municipalities meet EPA water quality standards, have decreased year-over-year, from $2.89 billion in 2009 to $906.9 million in 2015. The U.S Conference of Mayors estimated that state and local governments spent $93 billion on waste and drinking water treatment in 2008; 98% of those costs were shouldered without federal assistance. According to ASCE, 75% of drinking water expenditures are on pipe repair, not on water quality improvements.
To safeguard drinking water quality, the ASCE recommended $335 billion in drinking water system investment over the next 20 years, and another $298 billion for wastewater systems. To raise the funds, it proposed four solutions.
Raise awareness about the true cost of clean water, and improve conservation: Taxpayers may fuss, but this means raising the cost to the consumer. In municipalities that have recently hiked water rates, a common consequence is improved conservation. This may also enable more investment in infrastructure.
Better access to private activity bonds for water infrastructure projects: The Internal Revenue Service restricts the volume of private activity bonds per state, and each state allocates bond limits to issuers within its jurisdiction. Options to address funding include increasing the volume limit or adding water infrastructure to the list of volume-exempt projects.
Raise yearly DWSRF contributions to $7 billion or more: This would require Congressional appropriations to increase the fund. Between 2008 and 2012, appropriations totaled $6.9 billion.
Establish a federal water authority and trust fund to finance infrastructure improvements: The idea here is to create a water authority that could borrow from the U.S. Treasury at lower interest rates with its loans paid back to the authority and Treasury Department. A federal trust fund would be another tool to remedy funding shortfalls.
These four recommendations are now three years old. Since then, ASCE has released Failure to Act: Closing the Infrastructure Investment Gap for America's Economic Future. It warns that with current spending levels, the investment shortfall for water and wastewater infrastructure will total $105 billion by 2025, and $152 billion by 2040.
Room for Improvement
Before the passage of the SDWA, the EPA say that more than 40% of U.S. tap water didn't meet basic health guidelines. Today more than 90% of water utilities comply with EPA standards. Even with slowly degrading infrastructure, American tap water quality is among the best in the world and health risks are rare.
But even extremely rare health risks may be too much when it comes to such a vital resource. This is why the EPA acknowledges there is still a lot to accomplish to bring optimal tap water to every American.
The current state of American water quality appears to be tenuous. Arguments are made that unless infrastructure investment shortfalls are remedied soon, the potential for contaminated water supplies will increase. And delaying improvements will only result in more significant costs going forward, in both financial and quality-of-life terms.