UPS to Launch On-Demand 3D Printing Manufacturing Network
John Simpson | June 04, 2016
UPS is teaming up with enterprise software provider SAP and 3D printing company Fast Radius to launch an on-demand manufacturing network.
Starting this summer, customers will be able to visit the Fast Radius website to place their 3D printing orders, which will be directed to the optimal manufacturing or UPS Store location based on speed, geography and the product quality the customer requires. Fabricated parts will be shipped as early as the same day. Although the 60+ participating UPS Store locations are all in the U.S., overseas companies will also be able to place orders through the network.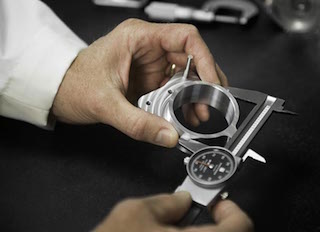 Fabricated parts will be shipped as early as the same day. Image credit: UPS.The UPS Store was the first nationwide retailer to offer 3D printing services in-store. "Connecting all UPS Store locations into a larger network provides more opportunity for new customers to access our printers and gives customers added flexibility to match their requirements with the appropriate UPS location," says Daniel Remba, small business technology leader for The UPS Store, Inc.
Integrating SAP's supply chain software with UPS' additive manufacturing solution and logistics network, companies will be able to access on-demand industrial manufacturing "with the touch of a button," according to UPS. SAP customers will be able to digitize the part approval process through SAP, and their orders can be routed to UPS for production and delivery.
UPS says the on-demand network will benefit customers of all sizes, including:
· Manufacturers wanting to reduce inventory for slow-moving parts;
· Companies with short production runs where the cost to create the mold or tooling could make these orders too expensive for traditional manufacturing;
· Retailers and manufacturers of custom/semi-custom goods—as 3D printing allows cost-effective customization of goods;
· Industrial designers and engineers desiring rapid prototypes delivered quickly; and
· Entrepreneurs, start-ups and manufacturers that don't currently have access to 3D printers or have limited capital and time and plan to use 3D printing for rapid prototyping and manufacturing of initial production runs.