UPS drone delivery service wins FAA approval
David Wagman | October 02, 2019
The Federal Aviation Administration (FAA) awarded air carrier and operator certification to an unmanned aircraft system (UAS, or drone) delivery company, UPS Flight Forward.
The operator delivers healthcare supplies around a major hospital campus in Raleigh, North Carolina. Flights to date have focused on blood delivery as well as other medical samples for lab work.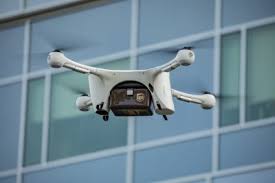 UPS said it will expand its drone delivery service to support hospital campuses around the country. Source: MatternetThrough the FAA's Unmanned Aircraft Systems (UAS) Integration Pilot Program (IPP), the FAA approved a Part 135 operating certificate for UPS Flight Forward. This allows the company to perform revenue-generating package delivery activities within federal regulations. UPS Flight Forward may operate multiple drones under one certificate. Under Part 135, the company can deliver healthcare supplies by flying beyond visual line of sight.
The company said it will expand its drone delivery service to support hospital campuses around the country, and to serve customers "beyond those in the healthcare industry."
The UPS business unit made its first drone delivery flight under Part 135 Standard using a Matternet M2 quadcopter. The drone is designed to carry payloads of up to 2 kilograms and 4 liters over distances of up to 20 kilometers. Matternet is based in Mountain View, California, and was founded by Andreas Raptopolous.
In 2017, Matternet began drone logistics network operations in Switzerland. In 2018, it was selected to carry out drone logistics operations for U.S. hospitals under the FAA's drone integration program. Matternet also partners with Mercedes-Benz Vans to integrate its drone logistics system.
The FAA said the company demonstrated that its operations met the FAA's safety requirements to qualify for an air carrier certificate.
Beginning in 2017, the FAA's IPP program has brought state, local and tribal governments together with private sector entities, such as UAS operators or manufacturers, to accelerate safe drone integration. The program is intended to help the U.S. Department of Transportation and FAA develop rules that support more complex low-altitude operations.