Gushing Growth Seen for Fracking Wastewater Treatment
Engineering360 News Desk | May 18, 2016
While fracking has produced low-cost natural gas in the U.S., it also has produced controversy, in part because it requires a large amount of water. The U.S. Environmental Protection Agency claims a single well can use anywhere between 65,000 to 13 million gallons of fresh water.
Now, a new report from Navigant Research shows that revenues from fracking wastewater treatment and recycling systems in the U.S. will grow to nearly $4 billion by 2025, for a compound annual growth rate of better than 30%.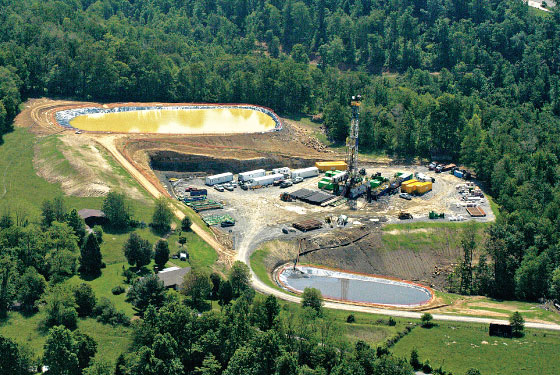 Estimates suggest that fracking a single well can use between 65,000 gallons and 13 million gallons of freshwater. Image source: Kentucky Waterways AllianceDriving this growth are government regulations and public efforts to protect the nation's water resources, particularly in some western states.
The process of hydraulic fracturing, commonly known as fracking, involves injecting a high-pressure mixture of water, chemicals and sand into rock formations to release natural gas. About half of the freshwater used in the process is recovered as flowback; that is, water that flows back to the surface along with the natural gas. The process also yields so-called produced water, which contains large amounts of brine. This wastewater mixture is difficult and expensive to treat, so fracking operators typically inject it deep underground.
Analyst Anne Wrobetz, who wrote the report, says that changes to certain water use laws will make it more difficult for oil and gas exploration and production companies to obtain freshwater for fracking. Thus, wastewater treatment and recycling will become much more important.
Growing importance also will be placed on modular treatment systems and recycling, as opposed to more centralized treatment technologies, according to the report, because many fracking sites are located in remote, hard-to-reach areas, making transportation of wastewater difficult and expensive.
Treatment of flowback and produced water can be achieved through a variety of different technologies, which include advanced oxidation, membrane filtration and reverse osmosis. But of the various treatment technologies, two methods are expected to lead the pack.
Advanced oxidation, a chemical treatment that eliminates organic compounds in wastewater, and reverse osmosis, which cleans wastewater by pushing it through a membrane, have the most potential, Wrobetz says. That's because they're proven technologies that engineers are familiar with, and they're already being used in some wastewater treatment systems today.