Synchronized Jack-Up System for Big Lifts
Vincent Zandri | May 12, 2016
The international high-pressure hydraulic engineering firm Enerpac says that it has created one of the world's tallest multipoint jack-up systems. The company's existing 2,000-ton jack-up systems of four towers each will be extended from a height of 20 meters to 36 meters.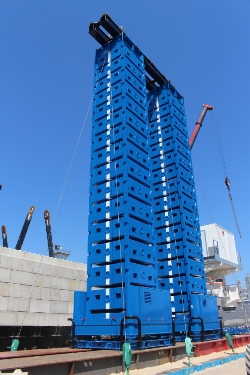 The system extends to up to 36 meters and creates four distinct towers. Image source: Enerpac The increase was created out of necessity when a U.S. demolition company in charge of a bridge teardown project concluded that using traditional strand jacks would prove both costly and unsafe. The Enerpac jack-up system uses a computer-based operation that will allow for a synchronized lift of the existing bridge from its foundations.
Enerpac calls its jack-up system a custom-developed multipoint lifting system. Four jacks are set beneath each corner of the load. Each jack can handle 500 metric tons for a total of 2,000 tons. The tower's lifting frame houses 4 hydraulic cylinders in each corner that are designed to lift and stack steel boxes that measure 1 meter in height. The load is lifted with a new box inserted with each incremental lift, eventually forming 4 distinct towers.
According to Enerpac, the jack-up system's central computer control unit helps assure that the lifting and lowering processes occurs simultaneously while maintaining the load balance.