3D-Printed Clothes: Custom Garments, No Waste
Engineering360 News Desk | April 27, 2016
Personalized 3D-printed clothing—manufactured within 24 hours—is the end goal of a new project led by Loughborough University that its developers hope will change the way consumers shop for garments.
Dr. Guy Bingham, senior lecturer in product and industrial design, has teamed up with global textile and garment manufacturer the Yeh Group to produce 3D-printed clothes and footwear with design input from a major fashion house. The 18-month project is known as "3D Fashion."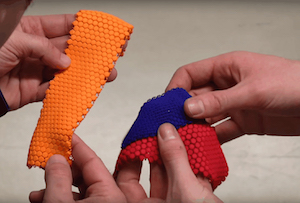 It is now possible to produce 3D-printed garments directly from raw material, such as polymer. Image credit: Loughborough University.Advancements in 3D-printed textiles have made it possible to produce 3D-printed garments directly from raw material, such as polymer, in a single manufacturing operation. This technology not only has the potential to reduce waste, labor costs and CO2 equivalent, the project partners say, but can modernize clothing production by encouraging localized manufacturing and production.
According to Loughborough University, garment manufacturers in the UK alone generate 1.8 million metric tons of waste material, equivalent to 70 kg or 100 pairs of jeans per household, with 6.3 billion cubic meters of water used in the process, equivalent to 200,000 liters per year per household.
According to Bingham, 3D printing allows designers to innovate faster and create personalized, ready-to-wear fashion "with no geometrical constraints" and almost zero waste material. "This modern approach to clothing production helps meet the growing demand for personalized apparel and footwear, which through 3D printing can be produced in a sustainable and ethical way," he says.
"3D Fashion supports [our] vision of direct polymer-to-garment manufacture," adds David Yeh, managing director of the Yeh Group.