British Lawmakers Calling Out Fashion Industry for Environmental Impact
Marie Donlon | October 09, 2018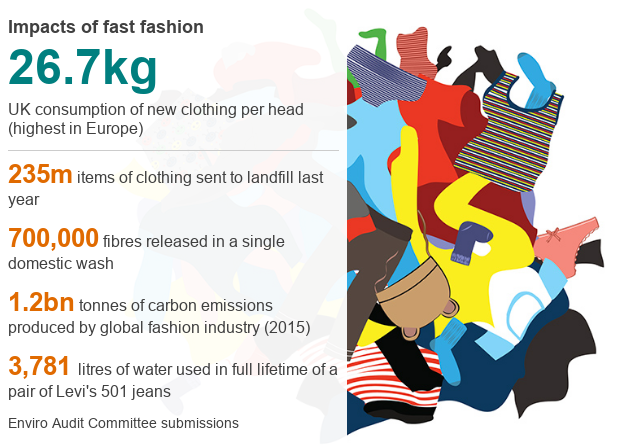 Source: BBC News
British lawmakers are calling out the fashion industry for being a major contributor of greenhouse gases, according to reports.
In addition to being a source of greenhouse gas emissions, the fashion industry is also attracting attention for contributing to the number of discarded clothes taking up space in landfills each year and for the flow of fiber fragments into the ocean each time clothing is washed.
In particular, the House of Commons Environmental Audit Committee suggests that there is something wrong with an industry that encourages people to discard clothing in good condition simply on the grounds that they are "last year's colour."
Now, lawmakers have reached out to the U.K.'s fashion industry wondering how they can both maintain the financial benefit the industry brings to the U.K. economy while simultaneously lowering the industry's environmental impact.
Suggesting that action is needed immediately to address the problem, experts believe that if the current rate of clothing consumption continues "...they will account for more than a quarter of our total impact on climate change by 2050," chairwoman Mary Creagh said. "Three in five garments end in landfill or incinerators within a year — that's expensive fuel! Half a million tonnes of microfibres a year enter the ocean. Doing nothing is not an option."
Among the solutions that British lawmakers are proposing include calling on the fashion industry to create less pollution, demanding longer lifespans for clothing and banning discarded clothing from landfills.
"We know more needs to be done, but the best answers will be achieved with collaborative global actions," said Peter Andrews, head of sustainability at the British Retail Consortium.