Electronic Displays Developed for Consumer Packaging
By Engineering360 News Desk | April 12, 2016
Electronic screens could soon replace printed labels on consumer product packaging, thanks to technology developed by scientists at the University of Sheffield.
The process involves printing electronic tracks onto paper and then fixing low-cost electronics and a polymer LED display to the paper using an adhesive that conducts electricity. The researchers, working with smart-surface technology company Novalia, also designed and constructed a touchpad keyboard on the paper that allows a user to selectively "drive" the LEDs in the display.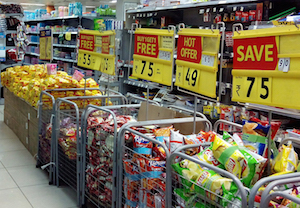 Electronic displays on packaging could convey brands in a more sophisticated manner. Image credit: Pixabay. "Labels on packaging could become much more innovative and allow customers to interact with and explore new products," says David Lidzey, professor of physics. "The use of displays or light-emitting panels on packaging will also allow companies to communicate brand awareness in a more sophisticated manner."
The researchers say that the technology could be used in greetings cards or products where a customer could receive a simple message. More complex applications could include a countdown timer on the side of a packet to indicate when a timed product will be ready—such as hair dye, pregnancy tests or home-baking products—using a traffic light-type system.
Testing so far has taken place only on paper, but the researchers say the printing process potentially could be adapted to other surfaces.
The team's next steps are to create fully flexible organic displays on a plastic substrate that then fix onto the electronic tracks. They are aiming for the LED devices to be low cost and flexible enough to be used on all types of packaging.