Video: Energy-efficient rotary screw compressor is also smart
Engineering360 News Desk | January 06, 2022
A new generation of variable speed drive (VSD) compressors from Atlas Copco is touted as the most energy-efficient, sustainable compressors ever manufactured as they offer energy savings of 60%. Pioneering smart features enable equipment adaptation and optimization of its operation for each customer. This new technology will be available first in the 22-37 kW GA oil-injected screw compressor range.
The GA VSDˢ is the third generation of Atlas Copco VSD compressors, which are engineered to reduce energy consumption by adjusting their motor speed to the fluctuations in compressed air demand. When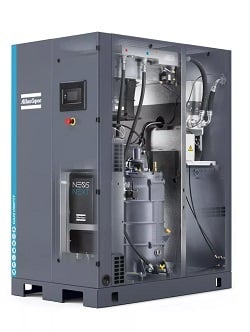 Source: Atlas Copco the company introduced the technology, a first-generation VSD compressor achieved energy savings of up to 35% compared to a fixed-speed compressor. That number increased to 50% when the VSD+ was launched. Now, the GA VSDˢ offers energy savings of 60%.
During testing prior to its formal launch, the new GA 37 VSDˢ was demonstrated to reduce compressed air system-related carbon dioxide emissions by 60 metric tons per year for a German logistics company.
Sustainability was also a guiding principle in the design of the GA VSDˢ. In addition to its minimal number of components, it is the first compressor to feature a super high efficiency IE5 ferrite-assisted synchronous reluctance motor, because it does not rely on rare Earth materials.
With a free air delivery 21% higher than its fixed-speed counterparts, the compressor offers smart features that allow it to adapt and optimize performance to the user's applications, requirements and conditions. A smart temperature control system ensures that the compressor operates with an optimal oil temperature at all times, completely eliminating the risk of condensation while ensuring maximum compression efficiency. The new boost flow mode gives users the freedom to exceed their compressor's maximum capacity temporarily and safely.
Small and silent, with sound levels as low as 63 dB, the unit does not require a compressor room site. It can be installed on the production floor, occupying the minimum footprint thanks to its vertical, compact design.