No-Mix Epoxy Meets NASA Outgassing Specs
Engineering360 News Desk | March 11, 2016
A one-part epoxy that meets NASA's low outgassing specifications is targeted for chip coating, glob topping, and chip encapsulation as well as traditional bonding and sealing. Master Bond claims that its Supreme 3HTND-2CCM has an unlimited working life at room temperature, and that its low outgassing properties permit its use in vacuum, aerospace, and clean room applications.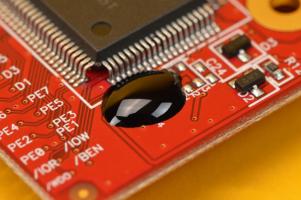 Master Bond says its new one-part, no mix epoxy has unlimited working life at room temperature.The epoxy has a paste consistency that flows slightly while curing. It cures at elevated temperatures, in 5-30 minutes, depending on temperature, the company says. The cured epoxy has low shrinkage and dimensional stability and bonds well to many substrates, including metals, composites, ceramics and plastics, according to the manufacturer.
The company says the cured epoxy delivers thermal conductivity for electronic applications, as well as high mechanical strength: tensile lap shear of 1,800 to 2,000 psi, tensile strength from 6,000 to 7,500 psi, and compressive strength from 15,000 to 17,000 psi.