Ford Damping System Helps Minimize Pothole Damage
By Engineering360 News Desk | March 02, 2016
Ford engineers have developed a "pothole mitigation strategy" for the 2017 Fusion V6 Sport that uses a computer-controlled shock absorber system to significantly reduce the jarring effect and vehicle damage associated with driving on a poorly sealed road.
Onboard computers analyze multiple signals collected from 12 high-resolution sensors—adjusting the dampers every two milliseconds for the best vehicle response in every situation. When the edge of a pothole is detected, the car's computer adjusts the dampers to their stiffest settings so the wheel doesn't fall as far into the pothole.
Because the tire and wheel don't drop as far, they don't strike the opposite side of the pothole as harshly. The rear suspension can respond quickly, as a signal from the front wheel provides a warning to the rear wheel well before it reaches the pothole.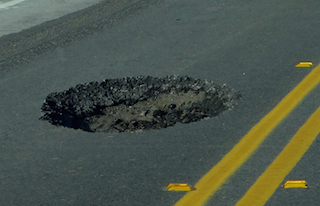 Sensors detect potholes and "catch" the car wheel before it has a chance to drop all the way in. Image credit: Morguefile.According to the American Automobile Association, pothole damage costs U.S. drivers approximately $3 billion a year, and drivers can expect to pay an average of $300 to repair pothole-related vehicle damage when it occurs. Ford says its controlled damping system can help defray some of those costs.
"Our new [technology] works by actually detecting potholes and 'catching' the car's wheel before it has a chance to drop all the way into the pothole," says Ford suspension engineer Jason Michener.
Ford engineers fine-tuned the system by driving the Fusion V6 Sport over a specially developed pothole-infested course on its Romeo Proving Grounds, in Michigan. The company also maintains a separate facility in Belgium, the Lommel Proving Ground, which incorporates 50 miles of test tracks with more than 100 extreme surfaces, including 1.2 miles of potholes.