How Sensors Enable Ford Fusion to "Feel" the Road
Rick DeMeis | March 29, 2016
The advent of modern microelectronics, computer power, sensors and software provides engineers with tools and flexibility to extend a system's capabilities and usefulness.
An example came with Ford Motor's recent announcement that the 2017 Fusion V6 Sport suspension will mitigate damage caused by running over potholes.
Company engineers leveraged the vehicle's continuously controlled damping (suspension) system (which adjusts handling characteristics) to come up with the feature, says Jason Michener, suspension system engineer. Simply put, the valve in the semi-active damper (shock) at the wheel that is encountering a pothole is commanded to maximum constriction so the wheel will not "drop" into the hole. This allows it to "jump across" the hole, reducing the jarring impact (see video). Normally this valve controls shock damping force to produce a desired ride quality.
(Read "Revolutionary Road: Driving Toward Connected Automation.")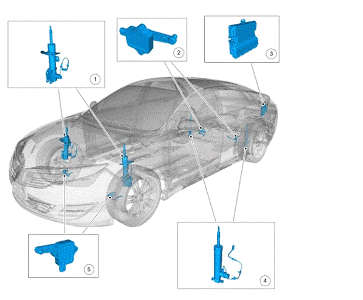 (Click to enlarge) Pothole mitigation in the Ford Fusion uses: 1 forward adjustable dampers; 2 rear ride height sensors; 3 stability sensors; 4 rear adjustable dampers; 5 forward ride height sensors. Image source: FordMichener says the team added a software module to the existing suspension system controller. The controller takes data from 12 existing sensors and processes those at 500 Hz to determine if a pothole lip is being entered. It then generates an appropriate response signal. The sensors factor in three parameters: height of each wheel; driver inputs of steering angle and throttle (speed and braking); and roll stability from vehicle level sensors in the stability control system.
"We gave the car reflexes," says Michener, enabling it to react to a pothole when it begins to "feel" it, without use of sonar (that may be subject to noise interference) or vision sensors (that may be unreliable in the dark). He says that the effect is analogous to a person descending an irregular stairway in the dark, stumbling somewhat, and then recovering.
Jeremy Carlson, senior analyst for autonomous driving at IHS, says that Ford's pothole mitigation is a low key "novel feature" that takes advantage of existing systems for a low-cost solution. In the future, Carlson says he sees the possibility of information from this system being combined with geo location data, and, via vehicle-to-vehicle networking, alerting other vehicles to a pothole's presence. Civil authorities may use the data for emergency road repairs and maintenance scheduling.
Challenges
In developing pothole mitigation technology, Ford designers had to balance effectiveness without aggressive tuning, says Michener. An overly sensitive system might respond to irregularities in the road or pavement joints, resulting in an uncomfortable ride and sketchy control. The right balance was validated with testing and tuning, he says. This was done both at Ford's Michigan proving grounds and at its Belgian test center that features 1.2 miles of potholes and "100 extreme surfaces replicated from 25 countries."
In the end, the suspension team was "pleasantly surprised" at how effective the system could be. The vehicle design team also considered pothole mitigation as beneficial in avoiding damage to the car model's larger wheels. The lower profile, performance tires reduced sidewall strength and the technology eased potential damage concerns and cost of ownership.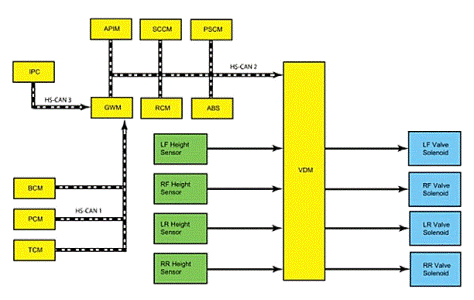 (Click to enlarge.) Block diagram showing the controller (VDM) integrating wheel height information and sensor inputs to produce damper valve responses to "jump" over potholes. Image source: FordIn operation, if a front wheel detects a pothole, the system provides a "heads up" to the rear wheel for better protection. During a turn, because the front and rear wheels work at a slightly different radius, the rear wheels have the same algorithm protection as the front to self detect a hole avoided by the front wheel's path.
Michener says that while the system accounts for "braking physics," mitigation is less effective under braking. "The worst thing you can do is slow or brake" at a pothole, he says, especially if there is no mitigation available.
The sweet spot for Ford's pothole mitigation may be where most wheel/tire failures occur, says Michener. That point, which may seem counterintuitive, is on local roads when accelerating or decelerating, rather than at open road highway speeds. The latter usually results in most holes being traversed without damage.
Finally, when asked if drivers would need to learn how to drive with pothole mitigation, much like getting used to emergency braking with ABS (anti-lock braking systems), Michener says it is not as intrusive as ABS. "Drivers will 'feel' it working, but won't have to learn how to use it, as with ABS," he says.
IHS' Carlson also sees the system as a tool that could allow engineers to tailor vehicle suspensions for a desired ride quality with fewer limits on wheel and tire sizes, and vertical travel.