Sandia Lab Unveils a More Efficient Pulsed-Power Accelerator
Engineering360 News Desk | February 24, 2016
An efficient pulsed-power accelerator is under construction at the U.S. Energy Department's Sandia National Laboratories. Designed to advance fusion research and study materials at extreme pressures, Thor will be 40 times more efficient than the agency's Z machine, among the world's most powerful pulsed-power accelerators.
"Thor's magnetic field will reach about one million atmospheres, about the pressures at Earth's core," says David Reisman, lead theoretical physicist of the project.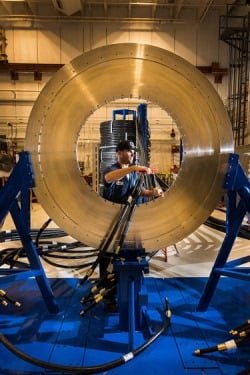 Technician Eric Breden installs a transmission cable in the pulsed-power machine's central power flow assembly. Image source: Randy Montoya, Sandia National Laboratories.The completed Thor will be smaller and less powerful than Z — 2,000 rather than 10,000 square feet, 100 kilojoules instead of 20 megajoules — but boasts design improvements befitting a next-generation accelerator.
The benefit of the new machine is that it will achieve up to five experiments daily, investigating materials by means of its electrically pulse-generated magnetic fields. This will reduce scheduling problems on Z, which currently can fire once daily.
In contrast to Z, Thor ultimately will be built using smaller but more capacitors, segregated by twos in one-cubic-foot containers called bricks. Each capacitor pair will be combined with its own switch that, when engaged, will discharge electric current in a 100-nanosecond pulse, without the energy losses inevitable when compressing a long pulse. And each brick's dedicated cables of smaller diameters won't need the expensive water and oil baths that shield Z's massive current-bearing transmission lines from shorting out. This arrangement allows finer control of the electrical pulses sent to test materials.