SNC's Vehicle Selected for Space Station Missions
Engineering360 News Desk | February 02, 2016
The U.S. space agency NASA has selected Sierra Nevada Corp.'s (SNC's) Dream Chaser cargo system to provide a minimum of six cargo delivery, return and disposal services for the International Space Station (ISS). The agency's selection of SNC for its Commercial Resupply Services 2 (CRS2) program may enable spacecraft reusability and runway landings for U.S. cargo delivery to the ISS through 2024.
The reusable Dream Chaser spacecraft, which has been in development for more than a decade, is a variant of the spaceplane that was passed over by NASA for its Commercial Crew Transportation Capability (CCtCap) program. The agency awarded those contracts to Boeing's CST-100 and SpaceX's Dragon 2.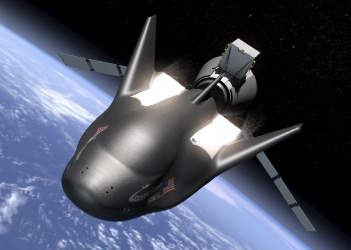 The spacecraft can deliver 5,500 kg of pressurized and unpressurized cargo to the ISS. Image credit: SNC. To meet the requirements of the CRS2 program, the cargo-carrying variant features a folding-wing design that allows the spacecraft to fit inside existing launch vehicle fairings, making it compatible with a diverse range of rockets. Other features of the Dream Chaser include:
The ability to deliver 5,500 kg of pressurized and unpressurized cargo to the ISS, which exceeds NASA's CRS2 RFP requirements.
High reusability that is intended to reduce costs and enable quick reflight.
Responsive pressurized cargo return capability to ensure that scientific experiments are returned promptly and without contamination.
Low-g re-entry and runway landing ability, which is necessary for the return of sensitive payloads.