SpaceX to Become the First Private Company to Re-fly an Orbital Spacecraft
Eric Olson | June 01, 2017
Update: The launch was delayed due to lightning in the vicinity of Kennedy Space Center, which is not allowed within 30 minutes of liftoff. The next backup launch opportunity is on Saturday, June 3 at 5:07pm ET.
Original Story: SpaceX is set to re-launch its Dragon spacecraft on a mission to resupply the International Space Station (ISS). The launch will be a historic occasion. It will mark the first time a private company has delivered the same spacecraft into orbit more than once.
This particular Dragon was first launched on September 21, 2014 on mission CRS-4 (Commercial Resupply Services) to deliver 2.5 tons of cargo to the space station. It then splashed down in the ocean about a month later, and has since been refurbished for its flight today.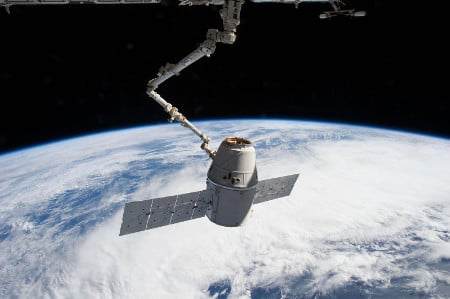 The International Space Station's Canadarm2 robotic arm captures the Dragon spacecraft for docking to the station in March 2013. Credit: NASA
Reusability is critically important to making space more accessible. SpaceX won a $1.6 billion contract in 2008 to fly 12 ISS resupply missions – more than $130 million per flight; individual Dragon ships are likely valued at tens of millions of dollars.
SpaceX inspected and refurbished the Dragon spacecraft after its initial flight. The repair work included replacement of parts that made contact with sea water and a new heat shield, according to SpaceX vice president of flight reliability Hans Koenigsmann. The structure and thrusters, however, remain from the original craft.
The Dragon spacecraft will be carrying almost 6,000 pounds of supplies and equipment. Inside its pressurized cabin will be around 3,700 pounds of cargo, including thousands of fruit flies for an experiment on how heart cells are affected by weightlessness, as well as 40 mice to be treated with a chemical known as NELL-1 that has potential to slow bone loss and aid in bone regeneration.
The unpressurized trunk portion of the Dragon ship will be loaded with three payloads. ROSA (Roll-Out Solar Array) will test a rolled up solar panel that reduces stowed volume by a factor of four and mass by 20 percent compared to traditional space solar panels. MUSES (Multiple User System for Earth Sensing) is a platform for precisely pointing Earth-sensing instruments that will be externally mounted on the ISS. Finally, NICER (Neutron Star Interior Composition Explorer) is a package of 56 parallel telescopes that will measure the flashes from pulsing neutron stars to test technology that could enable new deep space navigation systems.
The Dragon ship will be boosted to space by a Falcon 9 rocket. SpaceX achieved its first relaunch of a Falcon 9 on March 30 of this year. That was the first orbital re-flight of a rocket by a private company. Previously, Amazon.com founder Jeff Bezo's Blue Origin launched its New Shepard rocket five times between November 2015 and October 2016, but only on suborbital test flights.
The Dragon spacecraft's CRS-11 mission liftoff window opens at 5:55pm ET, with a SpaceX livestream starting around 5:40pm. NASA will also have a webcast beginning at 5:15pm ET. If everything goes according to plan, the Dragon spacecraft will reach the space station on Sunday June 4.