Pandemic plastics repurposed as carbon dots
S. Himmelstein | March 09, 2023
The disposal of millions of face masks and other medical waste generated during the last three years of the COVID-19 pandemic has taken a toll on the world's oceans. An estimated 26,000 metric tons of plastics associated with such waste have fouled these water bodies. Fortunately, researchers from New York University Abu Dhabi and New York University have devised technology to upcycle some of this marine detritus into useful carbon dots.
The single-step, organic solvent-free, hydrothermal process described in Green Chemistry converts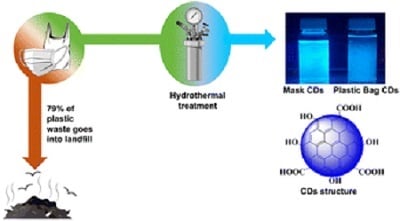 The single-step, organic solvent-free, hydrothermal process offers a scalable approach to upcycling plastic waste. Source: Green Chem., 2023,25, 1925-1937 polyethylene-based plastic bags and polypropylene-based surgical masks into the biocompatible nanomaterial with diverse uses in biological imaging, environmental monitoring, targeted drug delivery and anti-counterfeiting.
The upcycling process, which is also applicable to plastics contaminated with organic waste such as food scraps, was demonstrated in the conversion of polyethylene plastic bags and polypropylene surgical masks into 1 nm to 8 nm fluorescent carbon dots. In addition, the researchers confirmed the use of these carbon dots as potential anticounterfeiting agents using fluorescent, stretchable films of carbon dot-doped polydimethylsiloxane.