Watch: Water quality sensors styled with human hair waste
S. Himmelstein | July 20, 2020
Chlorination is an effective water and wastewater disinfection method that also generates by-products, such as trihalomethanes, which are hazardous to human health. A carbon dot sensor was developed by researchers from Griffin University and Queensland University of Technology, Australia, to provide real-time detection of these problematic compounds. The sensor devices are assembled with human hair biowaste to impart a high level of environmental sustainability to water quality testing.
The use of such biowaste for environmental cleanup was also recently tested by researchers from the University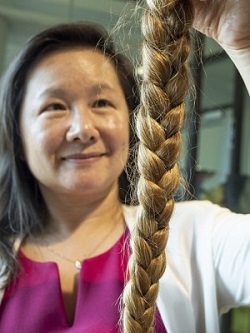 Human hair waste forms the basis of water quality sensors. Source: Griffith University of Technology, Sydney, who determined that dog fur and human hair recovered from salons and groomers could potentially be used to clean up land-based oil spills. In the chlorination study, carbon dots prepared from human hair waste were demonstrated to detect trace amounts of chloroform in water.
Fluorescent carbon dots were synthesized without solvents by heating hair samples at 180º C in an oxygen-deficient environment. By modifying thermal treatment conditions, the high nitrogen concentration of hair waste can be tuned to yield carbon dots with different N-based functional groups that bind to specific pollutants.
Sensors composed with dark-colored hair exhibited exceptional sensitivity to chloroform with a limit of detection of 3 ppb, while those fabricated with blond hair waste proved more sensitive to magnesium and other metals.