Solutions to global mask, face shield shortages emerge from COVID-19 pandemic
Marie Donlon | June 19, 2020
Turn on the news and it is impossible to miss the COVID-19-related stories about critical personal protective equipment (PPE) shortages for healthcare workers. Yet, in equal measure are the stories about innovators — engineers, scientists and makers, among them — lending their expertise and know-how to fill these critical supply chain gaps, which are largely due to the global pandemic.
In addition to shortages in life-saving ventilators, which are critical for pumping air to patients experiencing breathing difficulties — a symptom of some of the most life-threatening cases of COVID-19 — healthcare workers have also faced shortages in masks and face shields that protect against the transmission of the virus, which is carried in respiratory droplets from coughing and sneezing, for instance.
Consequently, solutions to fill that mask shortage have emerged from all corners of the world. Following is just a sampling of those attempts to fill the mask supply chain gap and protect healthcare workers along the way.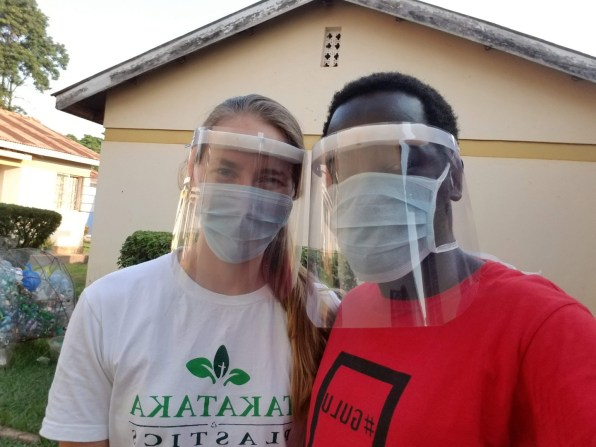 Source: Taka
Plastic waste face shields
A startup company in Uganda that transforms plastic waste into building material has pivoted its production line to make plastic face shields in response to the COVID-19 pandemic.
Takataka Plastics collects plastic waste such as discarded water bottles, and shreds, melts and forms the plastic waste into the design of face shields.
To accomplish this, the startup used the same machines its uses to create plastic waste-derived roofing tiles and pavers, diverting plastic waste from landfills and the world's oceans.
Nanofiber masks
Researchers from the Korea Advanced Institute of Science and Technology (KAIST) have developed reusable nanofiber masks for healthcare workers.
To create the reusable masks, the KAIST team aligned nanofibers with diameters of around 100 nm to 500 nm at assorted angles and all facing the same direction. The nanofibers' unique arrangement was achieved by the KAIST team via an insulation block electrospinning process.
According to KAIST, the design of the masks reportedly reduces pressure on the air filter while leveraging the material's filtration efficiency, which is nonexistent in the design of standard masks made without nanofibers.
Additionally, the mask is washable and reusable up to 20 times, it maintains its structure even after repeated use, it is water resistant and it filters out roughly 80% of 600 nm particles.
Virus-removing masks
A team from Queensland University of Technology in Australia has developed a mask that removes virus-sized particles under 100 nm.
The mask is composed of a breathable, biodegradable nanocellulose material derived from plant and agricultural waste such as sugar-cane bagasse. The design can reportedly remove virus-sized nanoparticles during testing better than most masks currently on the market.
The masks also proved effective during breathability tests, proving more breathable than surgical masks, which are worn for extended periods of time.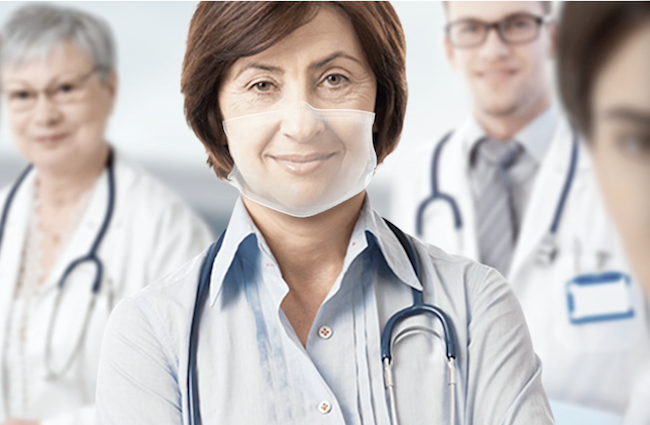 Source: EPFLTransparent masks
Researchers from Switzerland's École Polytechnique fédéral de Lausanne (EPFL) and the Swiss Federal Laboratories for Material Sciences and Technology have developed a breathable and transparent polymer surgical mask for healthcare workers.
The surgical HelloMasks were developed through an electrospinning process wherein an electric charge produced ultra-thin threads of polymer fibers spaced 100 nm apart. This arrangement reportedly allows air to pass through while simultaneously blocking viruses and bacteria.
Fluorescent masks
Researchers from the Massachusetts Institute of Technology (MIT) and Harvard University are modifying a tool originally used to detect the Ebola and Zika viruses to also detect SARS-CoV2 (CoV2), the virus that causes COVID-19.
The team is attempting to enable the face masks to emit a fluorescent signal if the built-in sensors detect COVID-19 when the wearer breathes, coughs or sneezes.
The built-in sensors, which can already detect a host of other viruses — including Ebola, Zika, hepatitis C, influenza, West Nile, measles and SARS — are composed of RNA and DNA that adheres to viruses. The researchers freeze dried the genetic material onto a fabric using a lyophilizer, which removes the moisture from the genetic material without killing it.
Incorporated into the interior of a face mask, the researchers believe that the sensor would emit a fluorescent signal in response to the respiratory particles from saliva and mucus along with the genetic sequence of the virus if present. According to researchers, that signal would only be visible with the aid of a fluorimeter, which measures fluorescence.
Disposable masks
Swiss company Mikron has developed a system for manufacturing disposable masks on site at hospitals and other public spaces where masks are in high demand thanks to worldwide shortages and mandates requiring that they be worn in public spaces.
To get the disposable masks to healthcare workers and the public faster, Mikron teamed with component manufacturer Festo to consolidate the space needed to manufacture the masks to fit within a 20 ft shipping container located in space near hospitals and other public places.
Designed to operate autonomously, the so-called mini factories can churn out roughly 50 to 100 face masks composed of meltblown nonwoven fabric a minute.
These are just a few of the efforts being undertaken to produce masks amid a global pandemic. Check back with Engineering360 for other engineering and technological developments to emerge from the COVID-19 pandemic.