Ulbrich expands Braid Wire Accelerator with new materials, capabilities and delivery regions
Engineering360 News Desk | February 07, 2023
Ulbrich Specialty Wire Products (USWP) has significantly expanded its Braid Wire Accelerator Program, an e-commerce solution that rapidly delivers round and flat wire materials for critical manufacturing needs. With just a few clicks, customers can see alloys in stock, select the best material for their equipment and applications, and add these products to their cart.
After a successful launch in North America, this innovative procurement tool is now available in Europe.
Additionally, USWP has expanded its capabilities with two new wire solutions — flat tungsten wire and higher-aspect-ratio flat wire. Both the new alloy and capability will be available within the Braid Wire Accelerator Program.
Flat tungsten wire is resistant to heat and corrosion while offering unmatched mechanical strength-to-thickness ratios. Its density and high atomic number make it a highly radiopaque material, well suited for medical applications where it is necessary to block X-rays or other forms of radiation.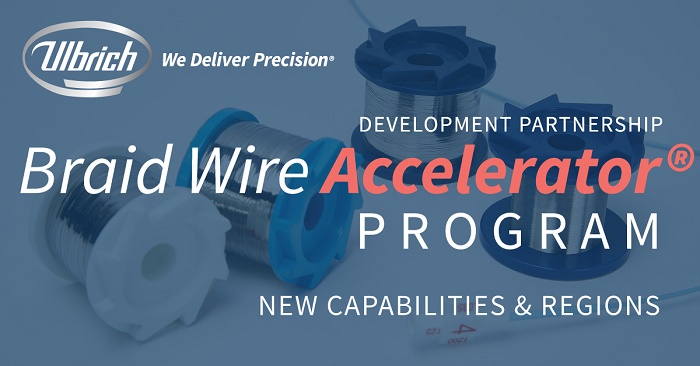 Source: Ulbrich Specialty Wire Products
Higher aspect ratio flat wires unlock design limitations by allowing manufacturers to achieve improved strength, flexibility and geometric profile combinations. There will no longer be a need to limit flat wire width/thickness ratios to 10:1.
Beyond these new solutions, USWP offers a wide range of metal and alloy types, available with customized and precisely controlled mechanical properties. If customers require modifications to meet their spec, USWP offers a rapid prototype solution that utilizes semi-finished materials.