Robot with lizard-like design may be destined for Mars
Marie Donlon | February 06, 2023
Researchers at China's Nanjing University of Aeronautics and Astronautics have developed a lizard-inspired robot that could one day be used to explore the surface of Mars.
The four-legged, lizard-inspired robot could one day be used to find signs of past or present extra-terrestrial life on Mars, unveil forms of ancient microbial life, or to discover resources that exist outside of Earth, for instance.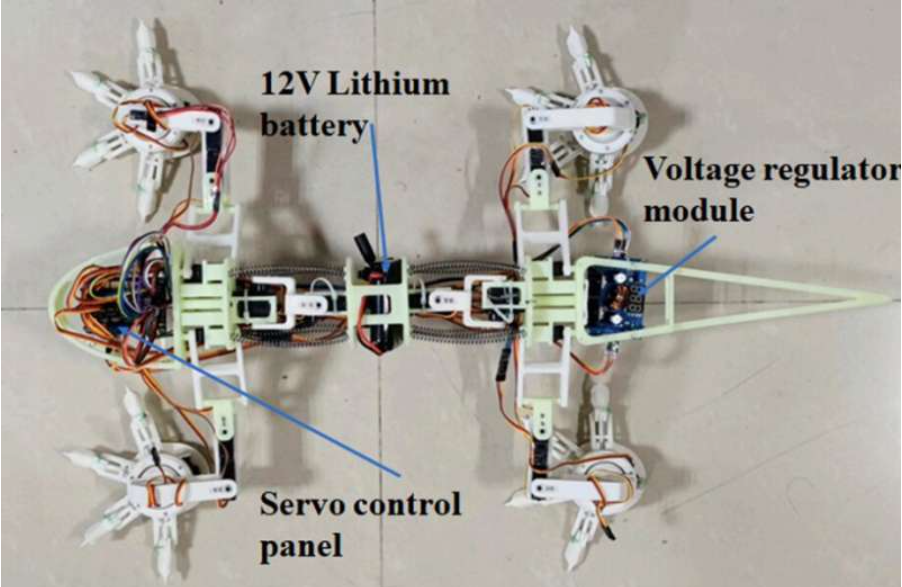 Source: Nanjing University of Aeronautics and Astronautics
To mimic how lizards "creep," the researchers created a robot with a flexible spine-like structure and four legs, each of which features two hinges and a gear that evokes a swinging movement.
Further, each of the robot's hip joints that connect the legs to the spine structure are comprised of two servos and a four-linkage mechanism that enable the robot to lift without losing balance. Meanwhile, the robot's feet include four flexible toes that consist of two hinges and a claw — a design that reportedly enables the lizard-like device to grasp various terrain.
The team also created a variety of kinematics models for each of the robot's components to mimic the movements of lizards. These models and numerical calculations were then used to map the robot's movements.
"To determine robot motions, kinematic models relating to foot, leg, and spine are established," the researchers wrote in their paper. "Moreover, the coordinated motions between the trunk spine and leg are numerically verified."
A prototype of the robot — which is composed of 3D-printed resin materials, a servo control panel, a lithium battery and other electronic components — was successfully tested in a rocky environment that simulated the surface of Mars.
The researchers detailed their lizard-like robot in the article, Development of a Lizard-Inspired Robot for Mars Surface Exploration, which appears in the journal Biomimetics.