Team extracts antioxidant nutrients from corn processing waste
Marie Donlon | February 02, 2023
A team of researchers from Sweden's KTH Royal Institute of Technology has developed a process for extracting antioxidant dietary fibers from corn starch production waste — potentially turning tons of bran into a valuable resource.
Although corn bran features the antioxidant ferulic acid in vast quantities, it is trapped in an insoluble material matrix that humans cannot digest. However, the KTH team devised a way for releasing the soluble ferulic acid dietary fibers from the insoluble matrix and created a hydrogel for delivering it to the intestines for the purpose of preventing cell oxidation and improving gut health.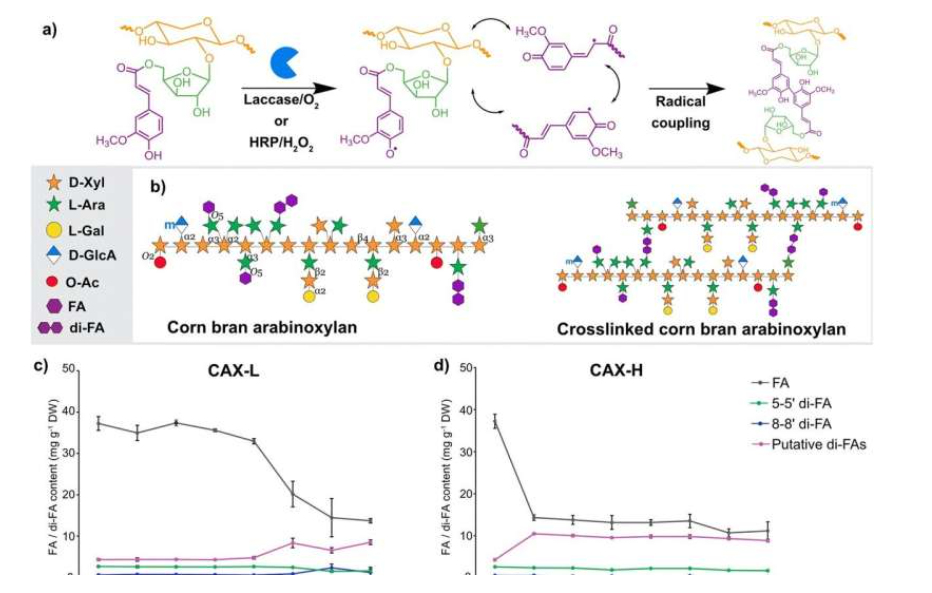 (a) Mechanism for the crosslinking reaction of ferulic acid (FA) by laccase and HRP, originating feruloyl dimers (di-FAs). (b) Molecular structure of feruloylated AX from corn bran. Corn bran AX is composed of a (1 → 4)-linked-β-d-xylopyranosyl (Xyl) backbone, with substitutions of α-l-arabinofuranose (Ara) at the C(O)-3 and/or the C(O)-2 positions, and α-d-glucuronic acid (GlcA) or its derivative 4-O-methyl-d-glucuronic acid (m-GlcA) at the C(O)-2 position. The complexity of corn bran AX arises from further oligomeric substitutions to the Ara side chains, composed of Xyl or galactose (Gal) moieties. Corn bran AX is additionally esterified to acetyl and phenolic groups. Time evolution of the depletion of FA and formation of di-FAs during enzymatic crosslinking by (c) laccase (CAX-L) and (d) HRP (CAX-H). Ion extracted HPLC-ESI-MS chromatogram of (e) CAX, (f) CAX-L and (g) CAX-H. The mass to charge ratio of the di-FA peaks were assigned to [M − H2O + H+]. Source: Green Chemistry (2022). DOI: 10.1039/D2GC03331C
Largely considered a low-value side stream from the production of cornstarch due to its insolubility, corn bran is typically discarded or sold off for animal feed. Yet, using a process dubbed subcritical water extraction, the team managed to isolate the soluble fiber component of the bran that features ferulic acid.
Going forward, the team aims to develop a hydrogel by crosslinking the soluble ferulic acid dietary fiber component using the natural enzymes laccase and peroxidase. The goal is for the hydrogel to be digested as a prebiotic for gut health, or used to treat wounds because it counteracts oxidative stress and promotes healing.
The article detailing the process, Hydrogels with protective effects against cellular oxidative stress via enzymatic crosslinking of feruloylated arabinoxylan from corn fibre, appears in the journal Green Chemistry.