Future medical implants, food wrappers could be composed of CBD
Marie Donlon | October 25, 2022
Researchers from the University of Connecticut want to turn cannabidiol (CBD) — a chemical in the Cannabis sativa plant also known as cannabis or hemp — into bioplastic for medical implants and food wrappers.
To develop the CBD-based bioplastic material, researchers performed a condensation reaction using adipoyl chloride and either CBD or the similar cannabigerol (CBG) to produce a polyester. According to its developers, the polymeric CBD demonstrated a broad melting temperature range and stretchability, and the material was shaped into a hemp leaf construction using a mold.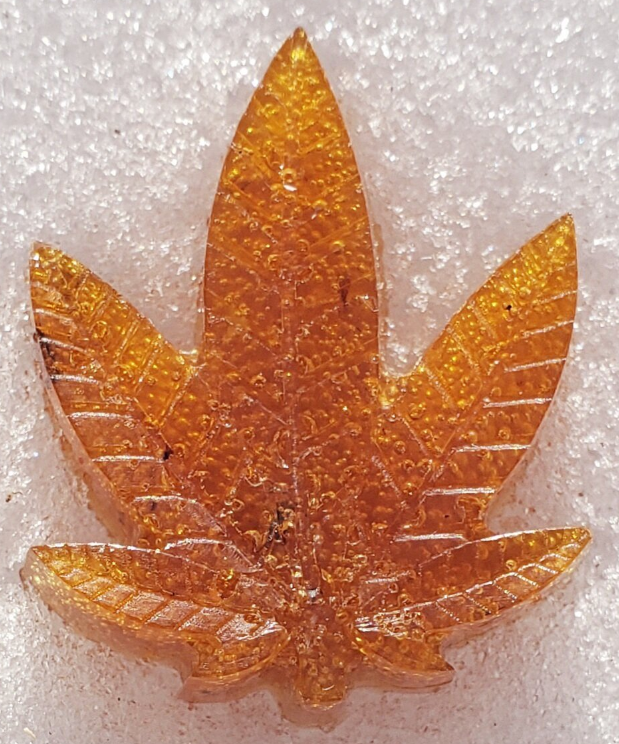 This melt-processable CBD-based polymer looks and works like a typical piece of plastic, with a dash of antioxidant activity. Source: Adapted from ACS Applied Materials & Interfaces 2022. DOI: 10.1021/acsami.2c05556
Further, the team also examined whether the polymer demonstrated any bioactive properties as bioplastics are also frequently used in medical contexts. According to the researchers, neither the CBD nor the CBG polyesters were cytotoxic — in other words, toxic to living cells.
Rather, unlike commonly used conventional bioplastics — called poly(lactic acid), or PLA, which is composed of corn and sugarcane instead of fossil fuels — the CBD polyester demonstrated antioxidant activity.
Going forward, the researchers suggest that the future iterations of the bioplastic could potentially be engineered to demonstrate anti-inflammatory and pain-relieving properties.
The article, Poly(cannabinoid)s: Hemp-Derived Biocompatible Thermoplastic Polyesters with Inherent Antioxidant Properties, appears in the journal ACS Applied Materials & Interfaces.