Samsung Refrigerator Brings IoT to the Kitchen
Engineering360 News Desk | January 20, 2016
Samsung is bringing the internet of things to the kitchen with its release of a smart refrigerator that uses the home Wi-Fi network to allow interactivity with the web and smartphones.
The company hopes to make the refrigerator a food, music, television and smart home "hub" and has incorporated into the door a 21.5-inch, LCD-resolution touch screen to act as the appliance's communications center.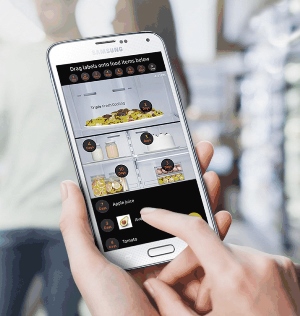 Smartphone users can view their fridge's contents using an app. Image credit: Samsung.Among the unit's smart functions:
Cameras installed on the inside take pictures each time the refrigerator door closes, allowing a smartphone user to check the contents from a remote location—for instance, to see if a particular item needs to be restocked. Smartphone users view the latest snapshot using Samsung's Smart Home app.
The screen allows users to post photos and share kids' artwork. Using Samsung's Sticki app, family members can update schedules and check each other's location on a map, or leave messages in real time.
The refrigerator offers options for music streaming to play through its built-in speaker or connect to Bluetooth wireless speakers. The screen also allows Samsung smart television owners to mirror their feed onto the fridge so that programming can be viewed while food is being prepared.
Web access on the touchscreen allows users to look up recipes and, through integration with a MasterCard app, to order and pay for groceries.
Using Smart Things sensors and SmartPower Outlets, the refrigerator can also be used as a hub to manage the home's connected devices—allowing centralized monitoring, control and securing of the house.
The refrigerator is expected to be available in spring 2016.